Rick Nelson spent much of the last 30-plus years working with Moravians in Honduras. Late last year, Rick completed his full-time assignment with the Board of World Mission and shares his views on the Moravian Church's medical efforts in that Central America country.
My involvement with the Honduran Moravian medical work began in 1985. With my wife and three young children, we moved to Honduras where I was to serve as both provincial treasurer and administrator of the Moravian hospital. I have been involved in Honduran ministries ever since, working with water projects in Kruta and Kokotingni, building a school in Kruta, and constructing homes with Habitat for Humanity's Global Village Program in Puerto Lempira.
In 2014, the Board of World Mission asked me to relocate to Ahuas where I would work first as a consultant and, for the past two years, as interim director of the hospital. Leaving my wife, Barbara, at home, my schedule included alternate periods of three months in Honduras and a month or six weeks of deputation in North America.
In the first eight months of 2017, a total of 2,659 outpatients came to the Ahuas clinic seeking medical care; 594 were hospitalized, 147 women gave birth and a total of 175 surgeries were performed. Surgical cases are seen nearly every day and we typically have between 10 and fifteen inpatients at any one time.

To give an idea of what happens at the Clínica Evangélica Morava, here's a view of a day in the life of this important effort:
In June Tomasa Gostas, the director of our Preventive Health Program, visited the small village of Krupunta, about a 45-minute walk from the Moravian hospital. There, one of three feeding sites for malnourished children is situated in a relatively poor community of less than 75 homes.
Tomasa observed the meal being prepared and served beneath the Moravian pastor's house. Food was prepared on the dirt floor over a fire built between discarded pieces of concrete block, using firewood contributed by the children's mothers. Meals were served to about 25 children in bowls and plates brought by the parents. Mothers assisted volunteer cook, Holanda Mendez, in preparing, serving and cleaning up. The Baptist pastor, who has been helping Holanda with daily Bible lessons for the children and mothers, mentioned that three had accepted Christ. He also suggested that we should construct a separate building for the children's meal program so that they would not have to cook or serve meals on the dirt floor.

Forty children under the age of five were weighed to determine eligibility for the daily meals. Mothers told Tomasa how important the program is for their children. One of these mothers had given birth in the hospital in Ahuas less than a year ago. After a successful delivery and a few days in the hospital, she had been discharged. However, her twin sons, Adicson and Aricson, were soon back in Ahuas, sick with parasites and suffering from malnutrition. Only by enrolling them in the Infant Feeding Program had they begun to develop normally.
Another mother, barefoot and with two disabled children – one a hydrocephalic boy less than two years old, and the other, his sister, a blind girl a little over three years old – asked for help. As I am made aware of these needs I wonder why God blessed me to see these needs but has not provided the means to address them.
After spending the morning with the mothers and children, Tomasa headed back to Ahuas. A middle-aged woman and her 23-year-old daughter also climbed into the bed of the pickup, wanting to see the doctors at the hospital. A few hours later, as I was making one of my countless daily runs between my office and the main clinic building, the same middle-aged woman asked to talk to me in the privacy of my house.
She related to me that the daughter who had come with her from Krupunta had been admitted to the hospital after having been diagnosed with probable appendicitis. The doctors had ordered an IV and wanted to operate later in the day. She wanted to talk to me because she had been told that the surgery would cost about L5,000 (approximately $215.00) and she had no money. She is one of those many Krupunta residents with no source of income and only limited interaction with the cash economy. She is, in Jesus' words, one of the "least of these." As a Christian hospital, we have never turned anyone away because of lack of money, especially if the case involved a life-threatening condition like appendicitis.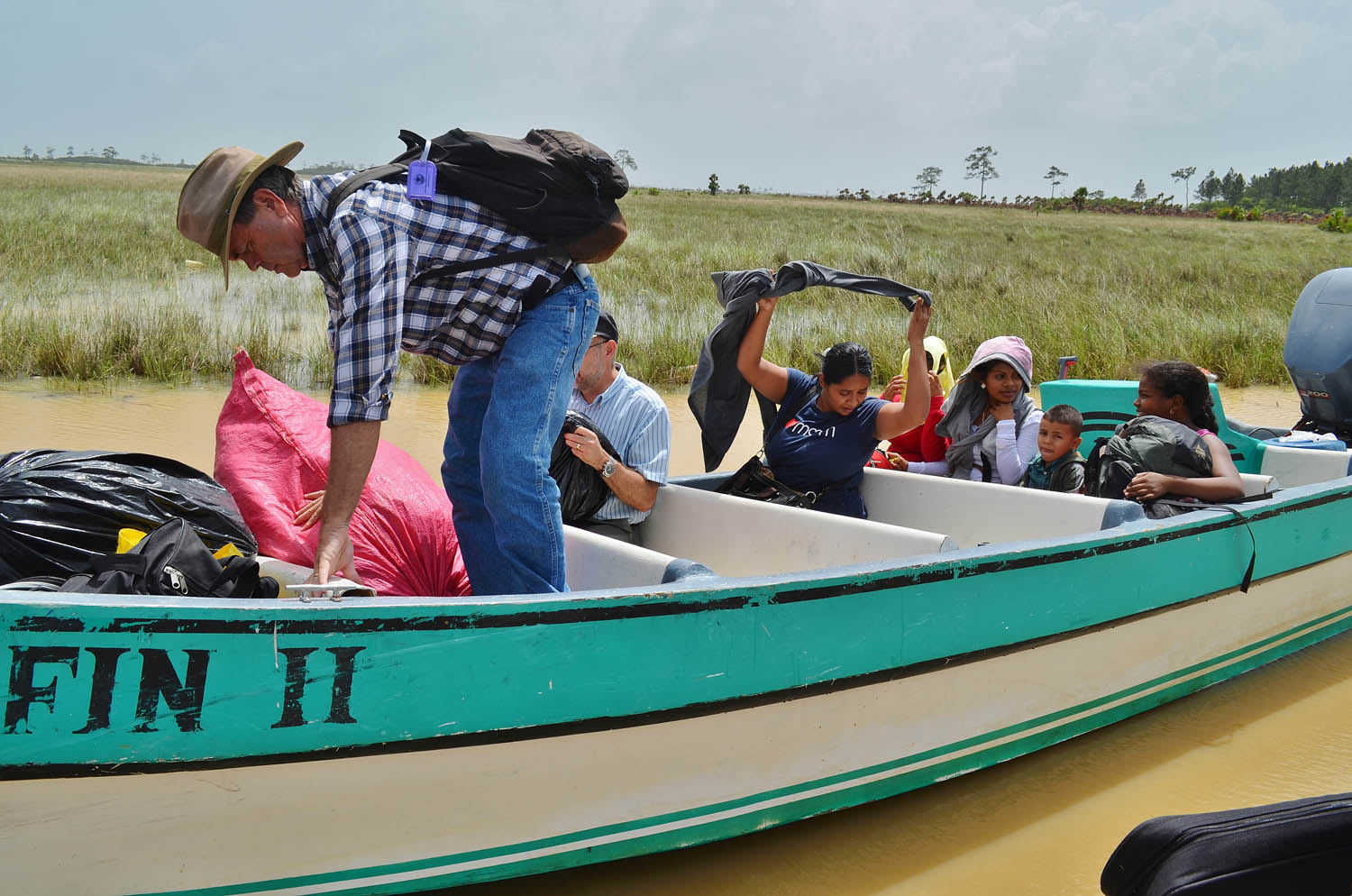 Late that evening an unusually large number of people stood outside the hospital. The generator had been running since about 5:00 p.m. because doctors Maylo Wood and Ratli Bendles needed it for surgery. Now, in the evening, they were about to perform their fifth major surgery of the day.
The patient that staff was preparing for the OR was the same young woman that had come from Krupunta earlier in the day. Once in the surgical facility, Maylo and Ratli performed an emergency appendectomy to remove a severely inflamed appendix. Dr. Maylo later reported that the patient had done well and had been discharged without any complications. They had waited to operate because that same day the doctors had found it necessary to take on four other emergency surgical cases: An emergency C Section on a woman pregnant with twins – unfortunately, one of those twins was stillborn; two more appendectomies, one ruptured; and another cesarean on a nineteen-year old which again, unfortunately, found a lifeless fetus with a knotted umbilical cord. The patients came from upriver, downriver and near Ahuas, with some of them traveling nearly a full day by river to get to this only hospital in the area. All of the patients progressed well following their surgical procedures and all were discharged within a few days.
Dr. Maylo, commenting on the day's activities, later said, "Our hospital, even with its limitations, continues to be a reference center for the Department of Gracias A Dios because we enjoy the trust of the people for the services that we offer."

The Clínica Evangélica Morava continues to be a source of hope for a marginalized people, a Christian witness in the midst of chronic suffering, a balm for the acute pain of a ruptured appendix, hope for a woman pregnant with twins, and an opportunity for malnourished children to enjoy healthy meals. All of this is done in the name of the same Christ who healed the paralytic, cleansed the lepers, restored sight to the blind and eased the suffering of Mary and Martha. The Moravian Medical Work is the logical extension and an integral component of a holistic Christian ministry that seeks to address both the spiritual and physical needs of the "least of these."

A clinic in transition
I ended my full-time employment with the Board of World Mission on October 31 and received my first Social Security check in November. I will be returning to Honduras for two months beginning in mid-January, the first of possibly four quarterly visits in 2018. I will follow up on administrative concerns at the hospital, working to assist the two Moravian provinces with accounting and trying to help revive the flight ministry of Alas de Socorro.
As I transition out of fulltime missionary work, I am grateful to God that He, the Board of World Mission and Honduran leaders have allowed me to continue to pursue what I perceive as my life's calling to serve the Lord in La Mosquitia. I am pleased to see that at the hospital, accounting (though still not where we would like it to be) has improved over the past two years. Substantial financial support from North American congregations has allowed us to start an Infant Feeding Program, a Women's Agricultural Initiative and several construction projects. Physical improvements have included the construction of a new concrete patient house; repair of the lab tech's home; demolition of the chaplain's house (after he moved to another home in the complex); construction of a perimeter fence; replacement of the ceilings in the two main clinic buildings; updates to the operating room; repairs, painting and cleaning of virtually all medical buildings in the complex; construction of a new patient bathing and showering facility; and transport/installation of a new generator and a new forklift battery for the solar electric system.
At the same time, the basic preventive and curative medicine services being offered by this 71-year old facility face the possibility of significant cutbacks. Existing income streams are unable to cover the most basic expenses of the facility. The Reformed Church in America cut funding to cover physicians' salaries by one-third in October.
Frequent and significant donor response to ongoing appeals has helped keep the hospital open. Moving forward, the clinic needs to explore ways to control costs, including personnel cuts and efforts to streamline medicine ordering. A comprehensive maintenance plan must be established to address important issues of building, equipment and mechanical upkeep. The extremely successful Infant Feeding Program, which had been feeding over 100 children a nutritious meal every day at three sites (Ahuas, Krupunta and Barra Patuca), had to scale back operations to Ahuas only, due to a lack of funds. There is serious doubt that we will be able to meet payroll obligations during the month of December and we are constantly short of the medicines needed to run the hospital.
The Clínica Evangélica Morava has been meeting the medical needs of the people of eastern Honduras for over 71 years. This Christian missionary outreach is vital to the health and wellbeing of area residents. However, as we struggle to find the resources necessary to continue this life saving work, the generous and prayerful support of Moravians across the world is indispensable.
Rick Nelson recently completed his work at The Clínica Evangélica Morava in Honduras. Thanks to Rick, Jamie Dease and the Board of World Mission for the photos in this article.