"Do not be anxious about anything, but in every situation, by prayer and petition, with thanksgiving, present your requests to God. And the peace of God, which transcends all understanding, will guard your hearts and your minds in Christ Jesus." Philippians 4:6-7
"Faith without fear" is a truth that God has been teaching us in a profound way this past year at Christ's Community Church in Maple Grove, Minn. This faith story is about how God has called one congregation to make a difference in our community and provided us with all we need to fulfill his mission—way beyond all we could have imagined.
Over the past few years, we've been listening to God and discerning his mission for us in our community near Minneapolis. During this time we redeveloped our mission statement, core values and vision. We've listened to the community around us for their needs and we've explored a variety of opportunities for us to share God's love with those in our neighborhoods. We know our gifts for ministry and the needs in our area, so we began to look for ways to match our gifts with that need.
When we heard about an exciting program called KidPack, a weekend food program for kids who experience food insufficiency, we were certain God was calling us to be part of it. KidPack invited Christ's Community to partner with Park Brook Elementary School by purchasing, packing and delivering 330 bags of non-perishable food once a month for each child in the school.
The Board of Elders felt strongly that God was calling Christ's Community to be part of this ministry. It fit perfectly with our mission to "glorify God as we love and serve others." It offered opportunities to live out each of five core values. It matched our gifts and met a real need in the community. We had many people in the congregation who were passionate about feeding kids in our community and were willing to volunteer their time to make sure KidPack ran well. Why wouldn't we be part of this program?
The simple answer: money. The food for the program costs approximately $6,000 per year and we would need to commit for three years. Where could we possibly come up with $18,000?
As a congregation, we made a commitment to meeting our budget in full in 2014 and we knew we could not find any of that money in the operating budget. We also knew that even though our congregation was generous, $6,000 is a substantial amount of money for a congregation with 65 people in worship on a Sunday. We did have some plans to apply for grants and look for community partners, but we had to make the commitment to Park Brook and KidPack before those monies were secured.
The Joint Boards went around and around with this for quite a while. Finally, God made clear for us what we needed to do. We were asking the wrong question. Instead of asking, "Can we afford this?" we needed to ask the question, "Is God calling us to this ministry?"
We knew the answer to that question was a resounding "YES!" so we decided that we should simply trust God to provide the means. God wouldn't call us to mission and then leave us to figure it out on our own! We took the leap of faith and committed to providing supplemental food for the 330 kids at Park Brook Elementary one weekend a month, trusting that God would provide as we moved ahead.
I wish I could say we did this with no fear whatsoever, but that's not entirely true. I had a few nights where I worried about this, praying that we had understood God's call to us. I kept going back to Philippians 4, remembering that God tells us not to worry about anything, but instead to turn to him in prayer with our needs, always asking with a thankful heart. When we do that, God gives us peace.
Our next step was to share the news with the congregation that we would be embarking on this new mission. I wrote a long article, outlining every possible detail, emphasizing that we were called to do the work of reaching out to love our neighbor and would trust God to provide the resources.
As I was writing the newsletter, one of my closest friends whom I've known since kindergarten stopped by my office because he just happened to be in the area and wanted to say "hi." He and his family aren't members of our church, but we talked briefly about KidPack and I mentioned in passing that we were hoping to find some grant money to cover costs.
The next morning, my friend sent me a text message, asking if I was around that afternoon so he could stop by again. He walked into my office and handed me a card that contained a $6,000 check, enough to cover the whole first year food costs of KidPack!
He and his wife had talked about it the night before and they felt God was calling them to be part of this ministry by covering the full cost of the first year of our KidPack program. They believed it was an important way to share God's love with our world and wanted to see children fed. They, too, took a leap of faith, listening to God's call in their lives by giving so generously.
Talk about a completely unexpected answer to prayer! I still can't think about this moment where God's presence and care were so evident without tearing up. God completely and totally took care of our need for this first year of KidPack, and all we did was be faithful. God is good.
As if that weren't enough of a lesson in having faith in God without fear, he didn't stop there! We had applied for a grant from the Larger Life Foundation, hoping we might receive about $1,000. A month after our friends gave their gift, we learned that we would receive another full year, $6,000, as a grant from Larger Life. This gift was way beyond our expectations and just another way God was reminding us that we didn't have to worry or be fearful. We simply need to be faithful.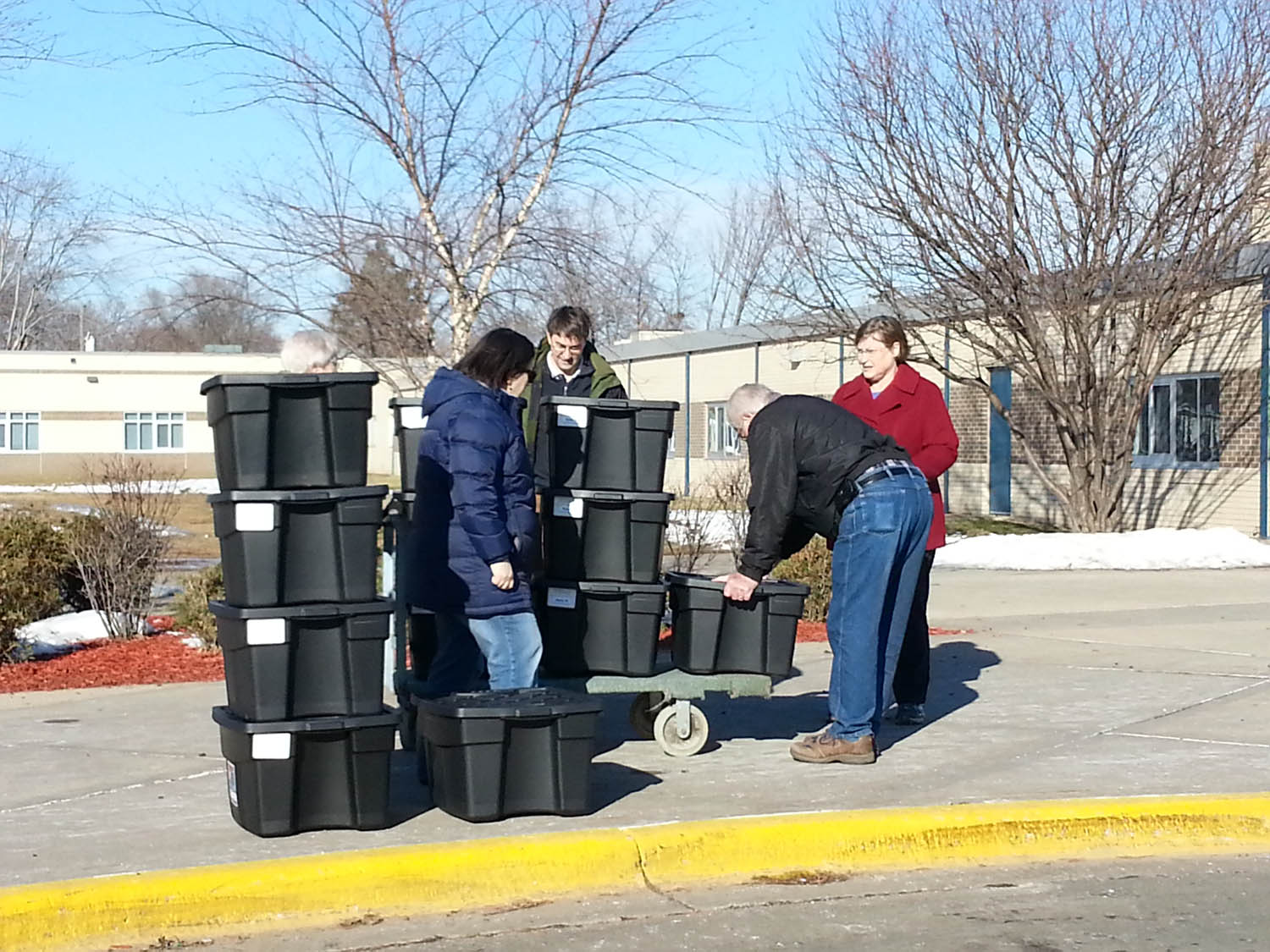 The story doesn't stop here, though. In the midst of all this, the Stewardship Team at Christ's Community held our annual stewardship celebration Sunday. During that service, the message we shared was about how God provides. The elder who leads the KidPack program, Corinne Omberg, gave a passionate account of how the KidPack program helps the kids, siblings, parents and everyone who is involved.
Part of our intention with this program is to get the children of Christ's Community involved with the packing of the bags so that they learn how to love our neighbors. This ministry really reaches people of all ages both in the congregation and in the community (see "What is KidPack?" for more details).
At the end of that service, we took a special offering for KidPack. The congregation gave another $1,500 in that one offering for KidPack, yet another profound expression of God's plan and provision in this ministry. Since then, another $400 has been given, which means God has provided for the first two-and-a-third years of the three-year commitment, all in three months' time.
After the KidPack service, our Stewardship Team leader, Janet Ohrt, said, "When it comes to KidPack, God has shown us that we truly can have 'faith without fear!" We knew that the church was supposed to do this ministry, to put stewardship in action one more time with something that is part of our legacy: providing food to those in need!"
God has taught us at Christ's Community so much just through this KidPack program. One of the most important things we've learned is that when we listen to God and discern his will, we can act without fear. God will provide. It isn't always easy, but it is what we are called to do: love and serve others with faith, giving God all the glory along the way. We pray that God continues to use KidPack, Christ's Community and Park Brook to share his love with the world. We are grateful.
What is KidPack?
KidPack is a non-profit organization founded by Toni Nosbush that partners with the local food shelf, C.R.O.S.S. (Christians Reaching Out in Social Service). KidPack and C.R.O.S.S. match community partners with 17 local elementary schools. Churches, civic organizations and even Target Corporation have all partnered with different schools.
Some of the schools have a low percentage of students who receive free and reduced lunches. At those schools KidPack has instituted an "opt-in" program. Students who wish to receive the bags need to return a signed form requesting participation. Because there is often a social stigma attached to receiving weekend food bags in these schools (a stigma we are hoping to help change through KidPack), their bags then are put in their lockers by the school rather than publicly distributed.
The school Christ Community works with is an "opt-out" program. Because 77 percent of students are on free and reduced lunch at Park Brook, all students receive a bag of food regardless of need. Parents are sent an "opt-out" form which they can sign requesting that their child not receive the bag. Approximately ten students of 320 have opted out at Park Brook.
The program's first year was 2013–2014. Christ's Community joined KidPack for the 2014–2015 school year and made a commitment through the 2016–2017 school year and we are hoping to continue beyond that!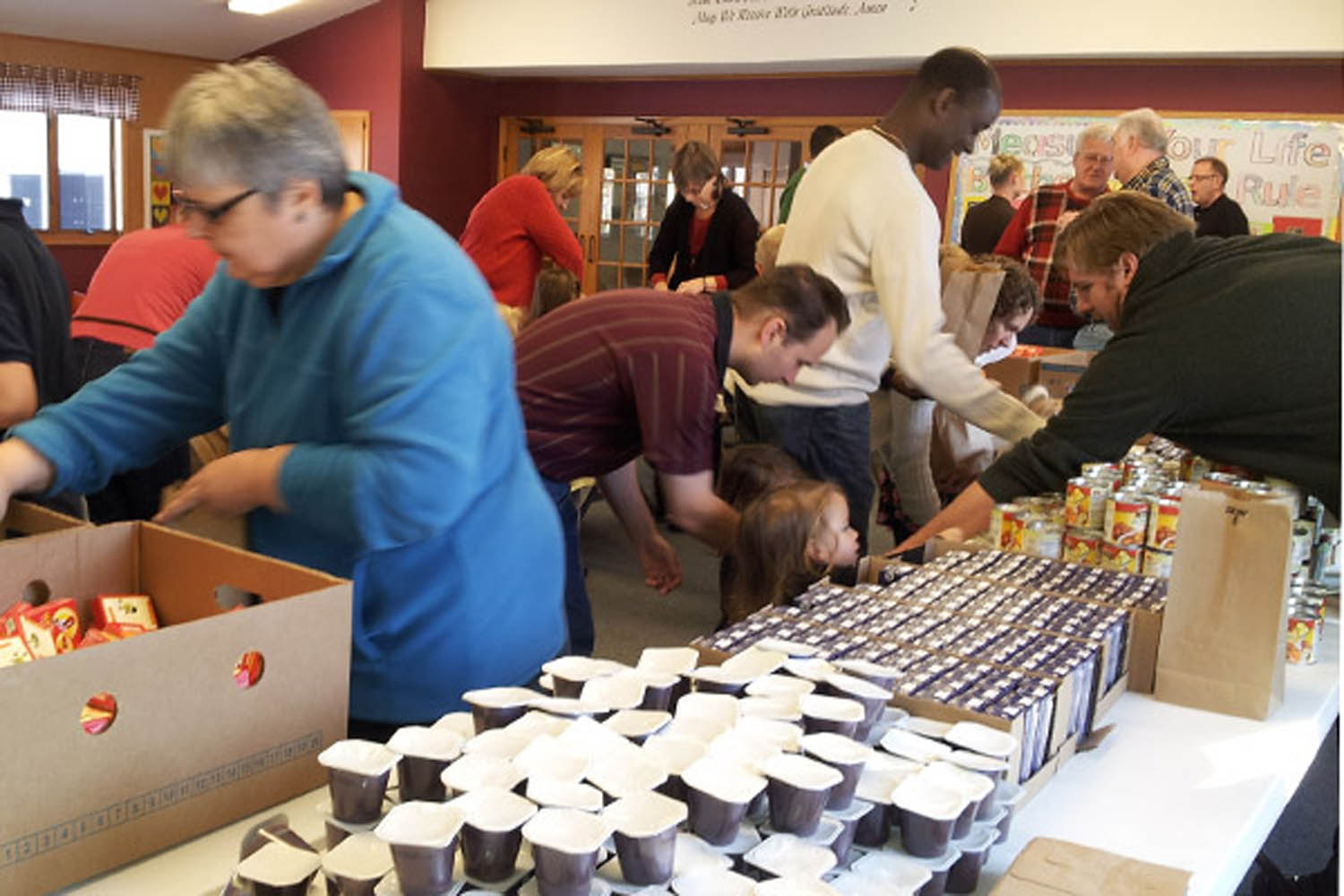 How does it work?
C.R.O.S.S. orders the non-perishable food from their suppliers, thereby getting more food for less money. Each bag of food costs approximately $1.78. A typical bag includes 7 items: a juice box, oatmeal/cereal, macaroni and cheese/beef ravioli, a pudding cup, Cheeze Its/Combos, granola bar and a beef stick. Since many students' parents work all weekend, the food needs to be non-perishable so that students can keep and prepare the food on their own. Christ's Community has a standing monthly food order with C.R.O.S.S., whose volunteers deliver the food to the church once a month. The Sunday before we deliver the food, the children's Sunday School classes lead the packing efforts. Ten adults and 18 kids pack all 330 bags in 45 minutes or less. We have the assembly line process pretty well worked out!
All the bags are packed in large, sturdy tote bins, one for each classroom. Volunteers from the congregation meet at the church in the afternoon of the last Friday of the month (delivery day!), load up the bins into our mini-vans and SUVs and head over to Park Brook.
Once there, we get the joy and privilege of bringing the bins into the classrooms and unloading the bags. In some cases, we help put the bags in kids' backpacks. In other classrooms we just unload them on the counter and say "hi" to everyone. In every classroom we are overwhelmed by the happiness we see on each student's face. They love KidPack and we love them. Every single classroom thanks us every single time we bring the food bags. This isn't an exercise in charity. It is an experience of community, a give and take where all people involved make each other's lives better, bringing about the Kingdom of God in new and profound ways each and every day.
The Rev. Jenny Moran is pastor of Christ's Community Church in Maple Grove, Minn.  
From the March 2015 Moravian Magazine