Remembering
Mohamed Braima
In November, the Moravian Church lost a dedicated servant and friend, the Rev. Mohamed Braima. Mohamed and his wife, Safie, who had been living in Charlotte, N.C., for nearly 30 years, returned to their native Sierra Leone in 2007 to begin serving the community of Ngiehun. 
The Braima's ministry in Sierra Leone involved church planting, the establishment of a secondary school, library and mission house, and service to surrounding communities. Last fall, Mohamed became sick, was transported to North Carolina for treatment and died after a brief illness.
In December, a group of American Moravians escorted Mohamed's body back to the village where the Braimas had such an impact. What follows are thoughts and remembrances of Mohamed from those who shared his work and vision. These insights provide proof of what Mohamed closed every communication with: "God is good. All the time!"
---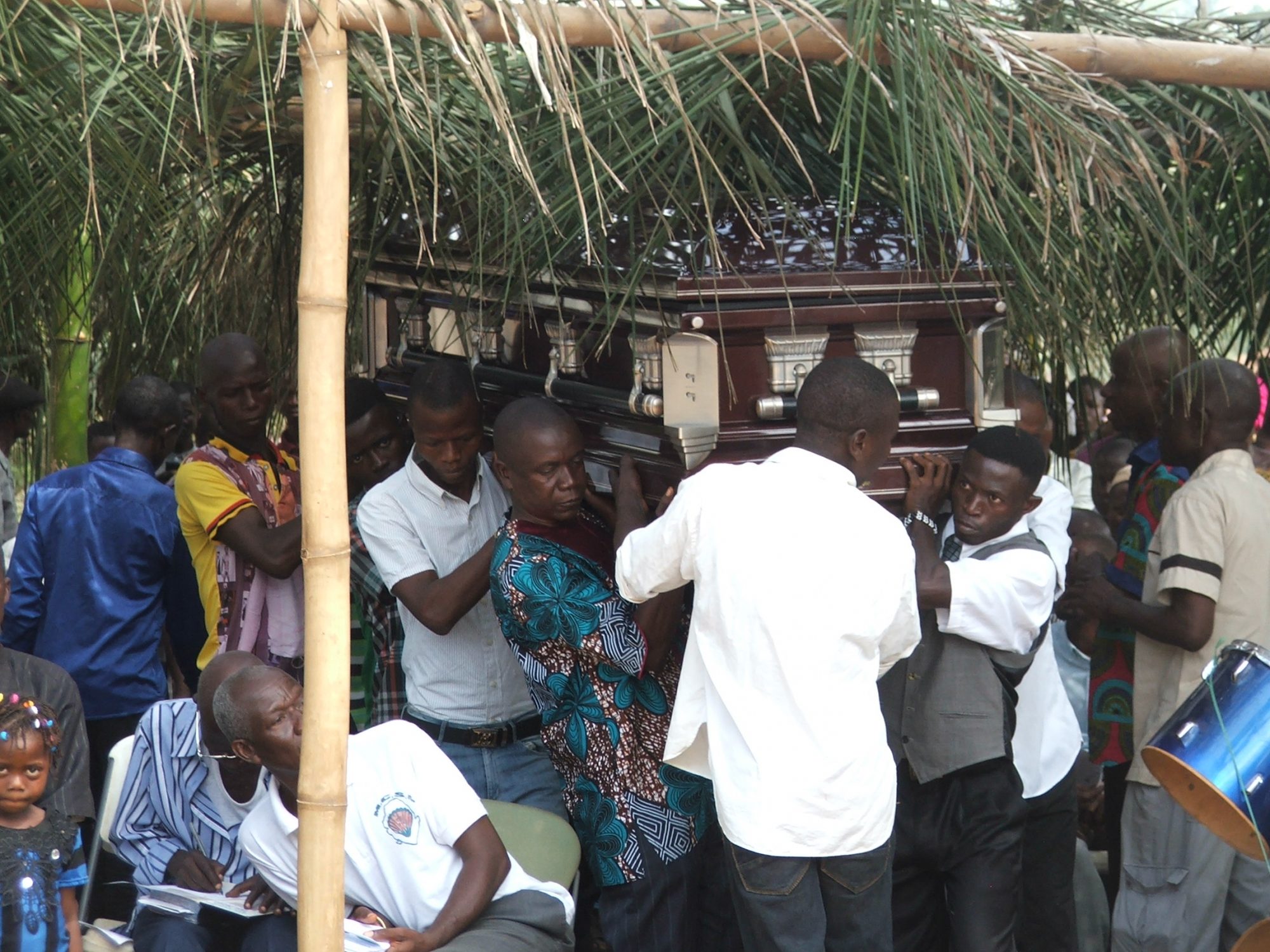 We approached the village at 8:30 p.m. with a caravan that included Mohamed's hearse. The road was full of kids singing, a band playing, and people walking beside the hearse.
Koi, Mohamed's son, asked me to help get the casket into the church. With the benches removed the emptiness was startling. Then the doors were closed. The silence inside reminded me of the rotunda of the U.S. Capitol in Washington. It was a fitting scene for a true servant of God.
We estimated 3,000 people had waited for hours to receive Mohamed. Most remained to talk and weep. We heard prayers, singing and even a message. As I tried to sleep in the nearby mission house, I could hear the vigil continue well into the night.
The next day's funeral in the church yard reflected God's love for Mohamed, the village and all who were touched by his ministry. He had quietly served all, regardless of background. As I spoke along with Bishop Tom Shelton, Koi and Festus Musa, the representative of the village, people were polite and attentive. Then Safie rose to share her heart for God, the people and her grief. She moved us all as she sang and clapped. The people responded with great joy.
The funeral continued as the helpers carried the casket on their shoulders to the grave. The struggle to lower the casket reminded me that this was new for them because their funerals have no caskets. The tears of the family were expected and welcomed. As we walked away, there was a sense of completion.
Mohamed wanted to be buried next to the church. He was now at rest.
–Steve Wilson, retired pastor, Little Church on the Lane, Charlotte, N.C.
---
Reverend Mohamed Braima never ceased claiming that God is good, all the time. Dreaming big to serve God was never an obstacle for Mohamed. His faith kept him headstrong as he worked, prayed and loved tirelessly to follow Jesus Christ in providing for our brothers and sisters in Sierra Leone. 
His approach to ministry was unchanging: "We are not just Christians in the mouth." He exemplified the love of Christ to everyone, and what it means to be a follower of Jesus: providing places of Christian worship; mentoring pastors and baptizing individuals in the name of Jesus Christ; building wonderful structures for higher education and Christian instruction; and giving assistance in times of great need for villagers.
The first structures were erected in 2006, and Mohamed placed this stake in the ground as the beginning of his God-given dream for a ministry whose footprint would grow more than Mohamed had imagined. The spread of the Sierra Leone Mission Area parallels Jesus' words in Acts: "…you will be my witnesses in Jerusalem, and in all of Judea and Samaria, and to the ends of the earth."
Mohamed's dream of bringing the message of Jesus Christ to Sierra Leone continues along the path into the future that Mohamed knew God was providing. In December 2018, Mohamed's life and accomplishments as a Christian leader and town chief were celebrated, and he was laid to rest beside the first church he established. As the thousands of people of the region came together to witness the accomplishments that Mohamed achieved for God, it was impossible for anyone to suppress joining Mohamed in his exclamation, "God is good, all the time."
–Jeff Fulp, Little Church on the Lane, Charlotte, N.C.
---
As I look through my pictures from visits to Sierra Leone over the last nine years, I'm reminded of the many people there that I know and love. At the top of the list are Mohamed and Safie Braima, a couple with beautifully complimenting gifts, two humble Christians completely devoted to caring for and witnessing to those around them. It is my pictures that still show Mohamed's engaging smile, but it is my heart that continues to remind me of what a giving man he was.
Every time we visited Moravians in another village, Mohamed took something to share from the supplies that had been shipped to the Braimas for the mission. Perhaps it was some school materials or bibles for the church or children's vitamins—always a small amount because his own resources were limited, but always something. One time we went to a nearby village to see his friend who was in a medical clinic. Mohamed took a few bottles of pain pills for the clinic. I happened to be wearing a shirt with our Moravian seal, and when one of the doctors saw that he asked, "Are you part of that church in Ngiehun that Mohamed leads?" When I answered yes, his response was, "Mohamed has been here before. He is one of the most giving people I know."
Mohamed promised God that he would return to his native land to share the gospel. And in the end, this giving man gave all that he had, including his life.
–Donna Hurt, Home Moravian Church, Winston-Salem, N.C.
---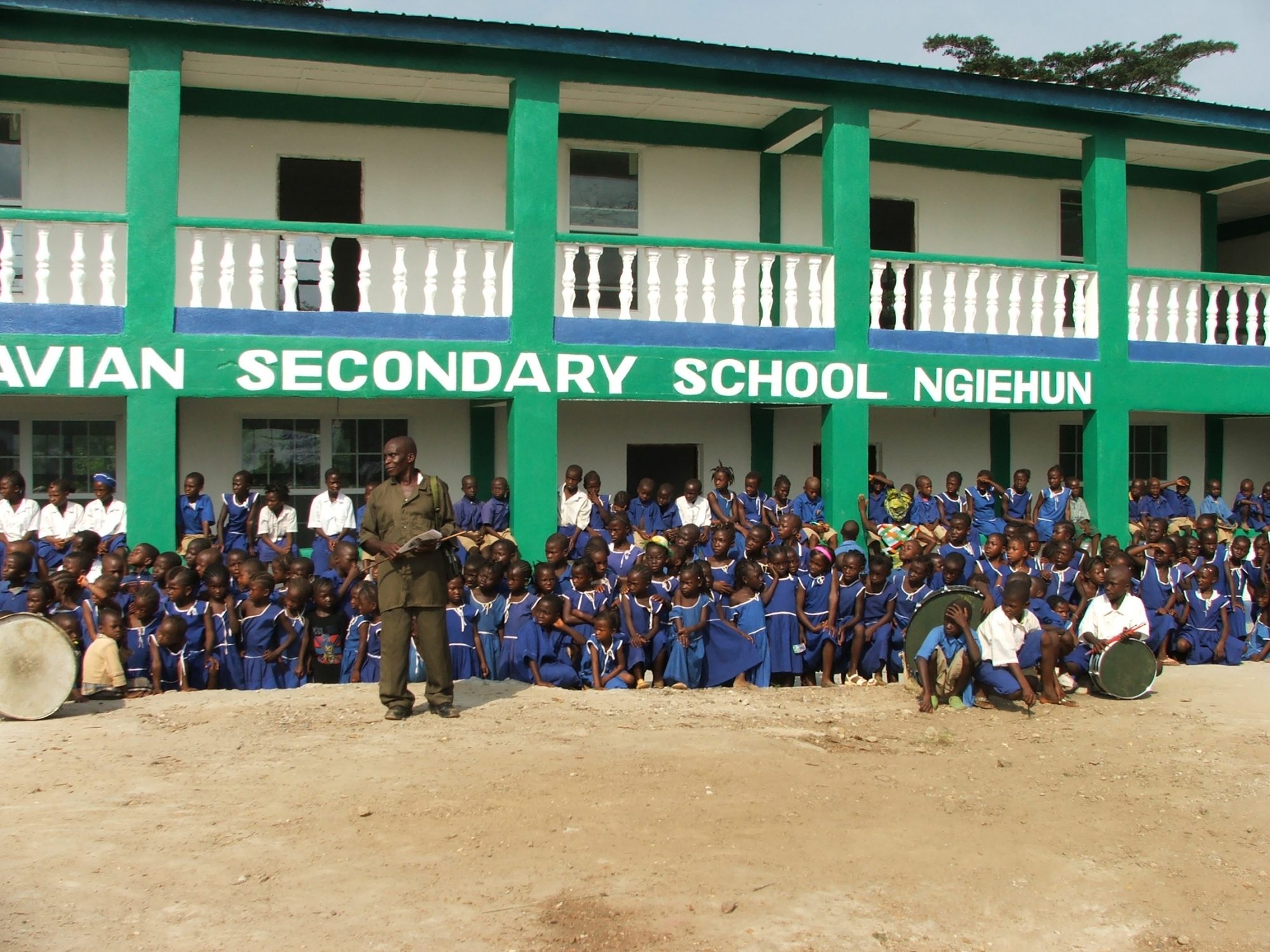 Throughout the history of our renewed church, there have been amazing brothers and sisters of extraordinary faith and determination leaving the comfort of home for the sake of Jesus and the soul-winning Gospel. I am awed by the courageous people who have heard the voice "from on High," similar to St. Paul's vision of a man in Macedonia beseeching him to "come over and help us."
Many times, I've wanted to ask one of those saints, such as Leonard Dober, just how certain he was about his calling to St. Thomas. Did he foresee the hardships ahead and the sacrifices which he would endure? 
In 2011, I glimpsed that sacrificial joy when I visited two of those extraordinary saints who had left the affluence of Charlotte, N.C., for the dusty roads of their small native village in Sierra Leone. It felt as though I was in Leonard Dober's St. Thomas when brother Mohamed and sister Safiatu Braima took me in as an honored guest.
Seven years later when I stood on the Mission House porch during Mohamed's funeral, looking at those who had gathered to weep and celebrate his passing, I was overwhelmed to realize all that he and Safie had accomplished. With tears in my eyes, I wondered "How did they do this," but then I realized it was not how they did it, but for whom they did it! Mohamed never took credit for anything, but would simply proclaim "God is good, all the time!!" He has no doubt now heard the Master's voice saying, "Well done!"
–Rt. Rev.Tom Shelton, DeLeon Springs, Fla.
---
Time is sacred in the village of Ngiehun, where one wakes with songs of praise, the piercing beat of the drum, joy reverberating like the beat of one's heart, lifting into praise and adoration of God.  After waking, one experiences an indwelling Holy Spirit in a community of Jesus' friends whose lives give definition to selfless service and effusive hospitality.  Although we grieve Mohamed's passing, we can experience the joy that he now knows with Jesus, friend to friend.
God sent a faith-farmer to plant saplings to become grand sequoias. His name was Mohamed.  Few people could conceive a vision as grown up as this man did: a vision of future harvest…the harvest—fruit of the Spirit—being the sure sign of the original planting but, more importantly, the Giver of the seed.  Only in God's mind could a tiny seed become like the mighty sequoia.   
The fertile soul-soil of Ngiehun is where I experienced the "seed" of friendship with Mohamed, who gave me a glimpse of the Jesus he knew. Sequoia seems too small to define friendship so great! God gives grace—sufficiently abundant—for planters of seed, such as Mohamed and Safie, to tend to saplings until they grow and cast off other seeds, like those now growing in Sierra Leone.
Farming and faith can best be taught friend to friend.  Sequoia-vision is best inspired friend to friend for those who are spiritually curious for visions of God-sized harvest.  The Lord our God, who give us seeds, inquires of us: "Will you plant and tend My seeds?"
–Rev. Tony Hayworth, Greensboro, N.C.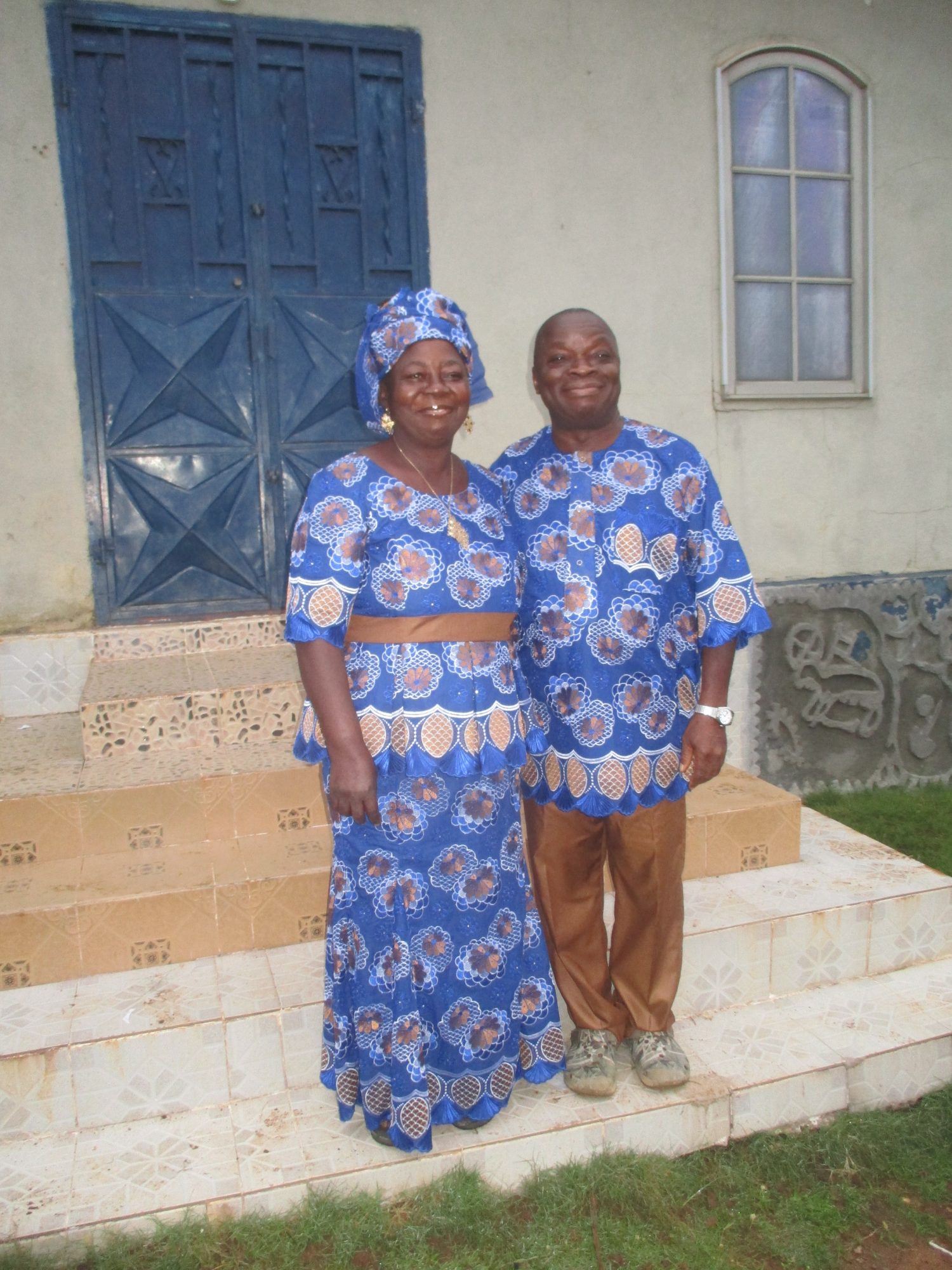 Many thanks to our contributors who provided remembrances and photos for this article, and to Donna Hurt for compiling this collection.