News about the impending Coronavirus pandemic reached Moravian Open Door (MOD) around the same time that the rest of the country was being made aware of it. Our first realization was that our clients fell into the "high risk" category that the World Health Organization (WHO) and the Centers for Disease Control (CDC) were talking about. The second was just how unprepared we were for this pandemic.
Within weeks of learning about this virus and its deadly potential, the MOD Board put together a policy which went into immediate effect, covering safety measures for all visitors, vendors, clients and staff. All clients were apprised of the policy at a community house meeting, and updated information on the virus and its spread was continuously being posted throughout the building. The program went into lockdown, with no visitors being allowed into the building, and only essential workers having access.
The earliest challenge that MOD faced was a lack of face masks, hand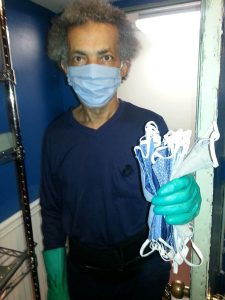 sanitizers and disinfectants, because these items were almost nonexistent in the local stores, online or from our regular supply vendors. The first donation of 50 disposable masks came from a client who works for the NYC Parks Department. Staff also brought in sanitizers and disinfectants from their homes to tide the building over until we could get a handle on the situation.
Once the word went out regarding the need for supplies, past and current MOD board members started sending whatever they could get their hands on to help us out. Moravian church members from various congregations made cloth masks for distribution to the clients. Castleton Hill Moravian Church brought in freshly made sandwiches twice weekly for our clients.
Church of the Incarnation, a long-time supporter of Moravian Open Door and our clients, dropped off supplies on a regular basis. They also started a card project whereby every week we would receive beautiful and uplifting cards from their members. The NYC Mayor's office stepped in, as well as other local NYC organizations to assist with our needs. Neighborhood residents would come over to the building, wave to whoever was on the desk, and leave supplies in front of our doors.
Many times, when we were down to the very last of our supplies, we would get a call from someone informing us they'd ordered supplies that would be arriving in a few days' time.
As the pandemic progressed, MOD never went a single day without. Special mention must be made about the numerous calls and emails that we received from Moravians, individuals, board members and supporters who were very concerned and checked in on an ongoing basis to inform us that they were thinking about and praying for us.
In spite of all the precautions and our best efforts, MOD did not come away unscathed. On April 7th, Arthur Berk, MOD's most senior legacy client, was the first to succumb to the virus. Later in that same month, we mourned the loss of two other clients. There were others, including staff, who were afflicted but were able, by God's grace, to overcome the virus. Mike Ralling, MOD's Facility Manager, has remained on site throughout the entire ordeal and worked through his own bout with the coronavirus.
Having lived through and experienced the ravages brought on by this pandemic, we cannot discount God's bountiful care and blessings as evidenced by: the many calls, prayers and expressions of love and concern; the strengthening of the MOD family; the tears that were shed; and the spirit of love that was ever present.
In part, it is because of each of you that we have been able to get through what could have been an absolute disaster. While the virus has made its impact on Moravian Open Door and on the thousands of persons in and around this world, we continue to move forward in this ministry of equipping and helping our homeless clients go on to live wholesome, worthwhile lives in the greater community.
It is being said that life as we once knew it will change for all of us. Although this may be so, the essential services that MOD provides for our clients will not change. Our need for continued prayers for our board, staff and clients will not change. Our need for ongoing volunteer services, financial donations and in-kind gifts from those who support what we do at MOD will not change.
Susan Attsz-Mendoza is executive director of Moravian Open Door in New York City.