In 2016, Historic Moravian Bethlehem National Historic Landmark District, 14.7 acres in the heart of Bethlehem, Pennsylvania, was short-listed for nomination as a World Heritage Site.  Included in the district are the 1741 Gemeinhaus,  Bell House / Single Sisters' House Complex, 1751 Old Chapel, 1768 Widows' House, 1762 Waterworks, 1761 Tannery, 1803-06 Central Moravian Church, God's Acre Cemetery and several archeological ruins in the Colonial Industrial Quarter.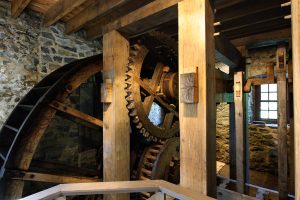 The World Heritage organization has expressed interest in the worldwide network of Moravian settlements dating to the 18th century. Christiansfeld, Denmark, settled by Moravians 30 years after Bethlehem, was designated a World Heritage Site in 2015.  Today, Historic Moravian Bethlehem is working with the historic Moravian communities of Gracehill, Northern Ireland, and Herrnhut, Germany, to prepare a transnational serial nomination to the World Heritage List. Since May 2021, representatives from these four Moravian communities are meeting monthly via Zoom to prepare a draft of the nomination dossier.
The World Heritage List encourages the identification, protection and preservation of sites around the world that are of outstanding universal value to humanity with a high degree of authenticity and integrity, and includes globally iconic sites such as the Great Wall of China; Pyramids at Giza, Egypt; Acropolis in Athens, Greece; and the Sydney Opera House, Australia.
There are only 24 World Heritage sites in the United States, two of which, Independence Hall and Frank Lloyd Wright's Fallingwater, are in Pennsylvania.
Historic Moravian Bethlehem, a timeless community with ageless values, has a unique, intact community
of buildings that conveys the essential qualities of the early Moravian settlement. Many of the buildings would be recognized by the original settlers, but they are special today because they are still part of a living community.  In the 1700s, Moravians made lasting contributions to architecture, medicine, education, technology and music, and furthered principles of equality and diversity.  These buildings reflect the artistic, architectural, cultural, religious and industrial characteristics that set the Moravians apart from other colonial settlers.
The Bethlehem Area Moravians, Central Moravian Church, City of Bethlehem, Moravian University, and Historic Bethlehem Museums & Sites are working together along with the Bethlehem World Heritage Commission to accomplish the goal of bringing World Heritage recognition to our community. There are many steps in the process over the next few years including preparation of the nomination dossier, authorization by the U.S. Department of the Interior, review by the International Council on Monuments & Sites and finally, presentation to the international World Heritage Committee made up of representatives of 21 countries.   
World Heritage List status will acknowledge that the ingenuity, creativity and ideals of the Moravian settlers in Bethlehem and other historic Moravian Church settlements around the world are of universal value and worth preserving today.
Charlene Donchez Mowers is president of Historical Bethlehem Museum and Sites. Photos courtesy Historical Bethlehem.