As Salemtowne celebrates its 50th anniversary this year, it's an especially appropriate time to pause, honor and recognize those who so generously give what many consider the most precious gift of all—time. Although Salemtowne has grown over the last five decades, the commitment to service is stronger than ever. A key part of Salemtowne's mission and vision remains supporting older adults by fostering their sense of community and well-being.
Dating all the way back to its beginning in 1887, Salemtowne's roots are based in volunteerism. At that time, the Dorcas Circle, a local Moravian service league comprised of women across the town of Salem, had concerns about the unmet needs of fellow citizens. In response, the Dorcas Circle established what was then known as Salem Home to provide shelter and comfort to destitute, sick, and aged women. Salem Home closed in 1968, but money immediately began being raised to open what later became Salemtowne.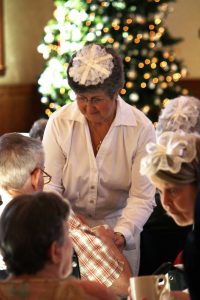 Since its inception, volunteerism has remained a vital part of the fabric that makes Salemtowne a special community. Known as The Moravian Home, when it opened its doors in 1972, Mildred Park was among the first community volunteers. She later became a resident at Salemtowne.
"Volunteering is sharing love, time, and talent to help others," Mildred Park was known to say. "At Salemtowne…where there has been a need, there has been a volunteer. May it always be so!"
Ruth Burke served as The Moravian Home's first coordinator of volunteers. In the early years, she worked alongside volunteers assisting residents with their dining trays, pouring beverages, and clearing tables. Volunteers also did the laundry and provided transportation services so residents could go shopping and take part in other activities.
After The Moravian Home became licensed as a continuing care retirement community and became Salemtowne in the early 1990s, the strong legacy of volunteerism continued. There's no better example than artist Jeannine Smith, who began what would become more than 20 years of volunteer service. She and fellow volunteers from the art world like Linda Turner, whose mother lived at Salemtowne, brightened the lives of residents by arranging for community artists to exhibit their work at Salemtowne, complete with an opening reception every two months.
Daughters, granddaughters and great-granddaughters of the original Dorcas Circle remained active as volunteers at Salemtowne for more than a century
until the 1990s. Two of the volunteer groups from the early days of Salem Home remain active today: The Emma Bahnson Service League and The Mary Ann Fogle Service League.
The Emma Bahnson Service League hosts the annual Harvest Tea for Salemtowne residents and participates financially in special projects to benefit residents. The Mary Ann Fogle Service League makes and sells Lovefeast candles and contributes the proceeds to Salemtowne's Resident Financial Assistance Fund.
One of the best-known members of the Mary Ann Fogle Service League is long-time Salemtowne resident Mary Dull. For years, Mary has been widely recognized in the Winston-Salem community for making thousands of beeswax candles trimmed with red crepe paper in her Salemtowne home for use at Wake Forest University's annual holiday Lovefeast.
Serving others remains a central focus of the daily lives of residents at Salemtowne today—and they wouldn't want it any other way.  Whether volunteering with the many local nonprofit organizations and churches in the Winston-Salem area or giving back of their time and talent on the campus of Salemtowne, residents embrace an active, meaningful, and fulfilling lifestyle by being fully engaged in the longstanding Salemtowne tradition of helping others in need.
Residents contribute in a variety of ways on campus—shopping and volunteering in the Community Center Gift Shop and Vogler Variety Shop, coordinating periodic "tag sales," and contributing to and operating a second-hand furniture store in the Phillips building. Proceeds from each of these activities support the Resident Financial Assistance Fund. Other residents volunteer on Salemtowne's campus by teaching art classes, leading discussions, sharing information related to technology, leading a variety sho, and more.
Another meaningful way that independent living residents volunteer regularly is by serving their fellow residents in the Babcock Health Care Center. "Gratitude. I volunteer at Salemtowne because I am grateful to be part of the wonderful family of friends who live here. There are many ways in which we choose to look after each other," Salemtowne resident CarolAnn Adcock said. "On Wednesdays, Chaplain Linda Browne conducts a worship service for residents in the Babcock Health Care Center, and residents from Independent Living assure that as many residents as possible attend and participate. Music for the service is joyfully provided by Salemtowne residents, Carol McElveen, (piano), Frances Kohut (flute) and Louise Whealton (clarinet).
"Barbara Lundgren helps Babcock residents in wheelchairs and walkers arrive in the Amos Room on time for the service.  I assist staff in bringing residents from the Memory Care Unit to the service," Adcock said.  "It is a joyful occasion as many Babcock residents sing familiar hymns, pray together and share stories of the blessings they feel, despite facing many challenges.  All of us share a deep sense of gratitude in being together and helping each other as a family of friends."
Salemtowne residents have enjoyed a long tradition of volunteering—that core part of Salemtowne will (hopefully)never change. As we mark our fiftieth year, Salemtowne thanks all volunteers—past, present, and future—who have contributed time and energy to enrich Salemtowne and the entire Winston-Salem community.
For more information about Salemtowne, please visit us online at salemtowne.org or call 336-714-2157.
Thanks to Renee Brumagin, director of marketing at Salemtowne, for this article