Moravians from the northern U.S. and Canada will convene in Bethlehem, Pa., in late June for the 2023 Synod of the Moravian Church Northern Province.
2023 may seem like an odd year for the every-four-year provincial synod, as the last Northern Province Synod was held in 2018.  However, due to concerns about COVID-19, the decision was made in late 2021 to postpone the 2022 Synod until this year.
Synod will be held at Moravian University June 22-25.  Throughout those four days, more than 210 delegates from Northern Province congregations and agencies will discuss, debate and legislate on key areas facing the church today. The provincial synod is the highest judicatory in the province, with supreme legislative power in all matters not committed to the Unity Synod.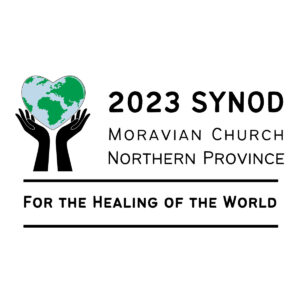 The theme for the 2023 Provincial Synod —"For the Healing of the World"—has meaning in three ways that weave together God's abundant grace, explains the Rev. Dr. Betsy Miller, president of the Northern Province PEC. "We pray for the healing of the world from the ravages of Covid—even as we emerge from this pandemic. We pray for the healing of the world from racial injustice and the disproportionate incarceration of People of Color. We pray for the healing of the world—literally—from the destruction caused by the climate crisis. We entrust all of creation into the hands of the Creator who loves us and sustains us beyond our imagining."
More than 20 proposals on a broad range of topics have been submitted prior to Synod. Committees of delegates will discuss these proposals and generate additional ones that seek to address issues, encourage new work, codify organizational changes and more. Many of the proposals will then be taken up by the full body for consideration. The final resolutions direct the work of the province for the coming three years and beyond.
Synod also elects of church leadership. including a clergy person as the Provincial Elders' Conference president along with the four lay members of the PEC. Betsy Miller, who has served three terms has PEC president, is not eligible to serve another term, so this Synod will elect a new PEC president. Several church-related agency boards also elect members at Synod. And, as with every provincial synod, there's the potential to elect new bishops.
The 2023 Synod will also offer an opportunity to connect and reconnect. After several years of limited gatherings, meeting and worshiping together with Moravians from all parts of the Northern Province will be welcome.
Coverage for the 2023 Synod will be featured on Moravian.org and the Northern Province's website and social media outlets.