BY DAVID HOLSTON |
Hatred stirs up strife, but love covers all offenses. – Proverbs 10:12
A few years ago, I wrote a blog for this space on "isolation poverty," lacking social and relational contact with other people.
Poverty is prevalent in our world, our country, and our neighborhood. The lack of adequate resources to thrive is often hidden in the less desirable parts of town, or so we believe. Poverty exists on our college campuses, in our schools, in the stores where we shop, next door, and around the corner. If you like Winston-Salem, you are never more than a 20-minute drive from a family living in poverty. While so important to remember and discuss, this type of poverty is not the topic here.
Over the last 15 months, we have lived in a different world. For many of us, it is a place where there have been intensely lonely periods. There has been the loss of jobs, investments, freedoms, and in some cases, loved ones. So many of us have spent days in isolation, waiting on test results and recovering from a cruel virus that struck indiscriminately. A far more difficult virus on people of color and our older family, friends, and neighbors.
Personally, I spent six days alone (I live alone), waiting on COVID-19 test results. During that period, I did not see another human except on a TV screen. I live alone, and I do not see any of my neighbors from my house because of trees. While I did have phone conversations, and I did some work from home, I spent much of that time walking around my house, feeling lost, seeming to look for something that was not there. I worried about my Godchild, who only a few miles away seemed on the other side of the world as she was in bed with COVID-19. While I had food and most of the necessities of life, I was experiencing "isolation poverty."
Living alone and being single, I realized a month or so into the pandemic that I had not touched (shaken hands, hugged, even patted the back of another person) since donning a mask. Then, in August, a busted blood vessel in my eye sent me to the eye doctor. When the nurse put drops in my eye, it was the closest I had been to another human since March.
These are my experiences; many of you have had similar experiences. So many of our friends and fellow parishioners have been isolated for more than 15 months. I am BLESSED that I have worked (except for just a few days) through the pandemic. It kept me in contact (socially distanced, of course) with others.
As we return to church, to our new future, we MUST look around and see who is missing; we MUST reach out to them, in the same way, we provide food for the hungry. If we do not, our church will be an empty place. We must help them to re-enter the world they left 15 months ago. If we do not, we are not living as Christ would have us live. Thus, working to end all poverty, no matter the type.
---
About the Author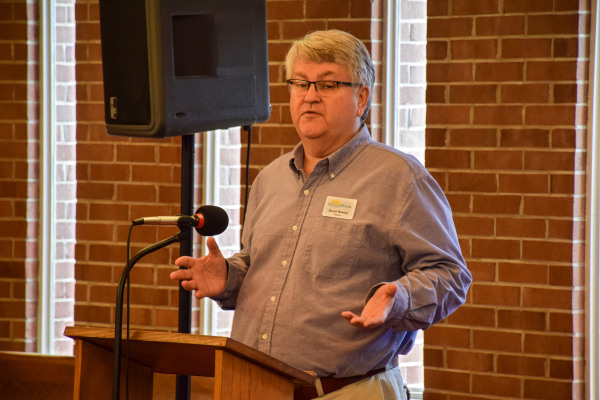 David Holston is the Executive Director of Sunnyside Ministry. Sunnyside Ministry is a non-profit organization that provides food, clothing, and emergency financial assistance to families in crisis. All funding for our assistance programs comes from donations and grants. In 2014, Sunnyside Ministry provided $1,883,040 worth of services to families in crisis situations. Grocery orders were provided to 17,634 people and clothing to 15,483 individuals.
Contact David Holston at [email protected].
---
Requests for republishing, click here.
Want to volunteer to write for us? Click here. 
---