Southern Moravians, their Neighbors, and Processes of Americanization in the Early Republic
Saturday, November 19th
9:00aM – 12:00PM ET
The CCD is excited to present this year's Comenius Learning Series!
This lecture presents the results of a multi-year collaboration among academic, not-for-profit institution-funded, and independent scholars who represent Moravian and non-Moravian perspectives, and published as an edited volume by Brill Academic Publisher in late 2022. The collaborative work led initially to an international "town and gown" conference at Wake Forest University in the fall of 2020. The conference brought together scholars and religious leaders to examine a rich cultural exchange that came to define the multi-ethnic Moravian-American character of North Carolina in the seminal decades before and after the American Revolution. While unique to the Wachovia region in its specifics, the dynamic Southern "meshwork" of cultural, social, religious, and artistic practices exchanged between Moravians and their white, Indigenous and free and enslaved African neighbors also invites intriguing questions about the character of the new nation  as well as the future of the Moravian Church in a multi-ethnic, diverse South.
---
Event leadership: 
Grant McAllister is an Associate Professor and the Levison Faculty Fellow at Wake Forest University. He teaches German literature and humanities at Wake Forest University and is the author of Kleist's Leading Female Characters and the Subversion of Idealist Discourse (Peter Lang Publ., 2005). His primary research interests focus on eighteenth and nineteenth century philosophy and literature, with specific emphasis on Moravian Studies, early Romantic aesthetic and critical theory, and questions of gender and the formation of the subject. He has written and presented papers on the history of Salem's Female Academy, Romanticism, and the authors Heinrich von Kleist and Gotthold Ephraim Lessing. He is currently working on Moravian odes for the Schreiber-Collegium and a study of the Salem Moravian diary from the year 1817.
Ulrike Wiethaus is Professor Emerita in the Department for the Study of Religions at Wake Forest University. Her research interests focus on the history of Christian spirituality with an emphasis on gender justice and political history, and most recently, historic trauma, religion, and the long-term impact of US colonialism.  As the inaugural director, she has guided the creation of the Religion and Public Engagement concentration in Religious Studies at Wake Forest University. Her monographs include German Mysticism and the Politics of Culture (New York: Peter Lang, 2014), American/Medieval. Nature and Mind in Cultural Transfer, co-edited with Gillian R. Overing (Göttingen: Vandenhoeck & Ruprecht, 2016); American/Medieval Goes North: Earth and Water in Transit, co-edited with Gillian R. Overing (Göttingen: Vandenhoeck & Ruprecht, 2019); and  Upon Her Shoulders: Southeastern Native Women Share Their Stories of Justice, Spirit, and Community, co-edited with Mary Ann Jacobs and Cherry Maynor Beasley (Chapel Hill: Blair Publishing,  2022).
---
Registration: With our tiered event pricing, you can decide what you can pay. We want everyone to participate in this event, so registration is free! If you would like to help offset some of the costs, you can choose to be a "Supporter" or "Advocate."
Participant: $0
Supporter: $10
Advocate: $20
---
---
The Comenius Learning Series provides opportunities for all Moravians to think, learn, and grow. The name recognizes the profound influence of John Amos Comenius, a Czech philosopher and educator considered the father of modern education, who was also a Moravian bishop of the ancient Unity.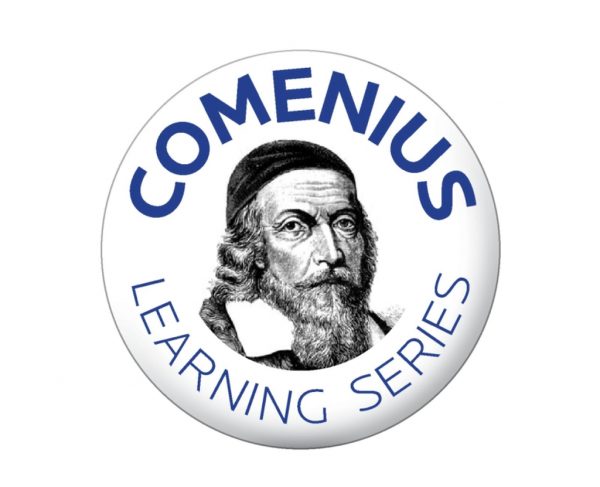 He wrote that education must "illumine the intellect, direct the will, and stimulate the conscience. . . it is impossible to separate those three ornaments of the soul — erudition, virtue, and piety." With this series, we honor his life, legacy, and understanding that we are to "make the whole of life a school."
The Southern Province of the Moravian Church has a rich history of offering meaningful religious education for members through its Lay Seminary program. Together, we've grown in our faith and made an impact on those searching for a deeper relationship with God. This series responds to requests for more events that deepen our understanding of the spiritual, cultural, and historical perspectives of the Moravian Church and Christianity as a whole. We also focus on ideas regarding practical aspects of congregational leadership and faith life.
The Commission on Congregational Development is committed to enriching the growth of lifelong learners, both clergy and laity. It is our hope that The Comenius Learning Series will further support and strengthen the faith of our members by providing faith formation, Biblical study, and religious education that makes a difference in the life of individual members.
---
Publicity Materials coming soon!