The Parable of the Easter Bench
The Easter season brings with it the promise of transformation – when something broken is made whole and given new life and purpose through the unconditional love of God in Christ Jesus.  We are thankful to Elke Rockwell for her story of hope as we are challenged to join God in the act of transforming creation.
Many of us have asked ourselves, how can we do a better job caring for creation and how can we make this a communal enterprise?  One environmental problem that has received much notice in recent years is plastic. It litters our landscapes, clogs our landfills, endangers our marine animals and even poses health threats to humans in the form of microplastics in the rivers that supply our drinking water. Bethlehem Area Moravian (BAM) churches joined together to address the problem of plastic in our own homes and churches by partnering with TREX, a company that manufactures deck building materials and outdoor furniture made from plastic-containing composite materials. The company sponsors a program called the TREX Plastic Challenge which engages schools and community organizations in the collection and reuse of unwanted plastic. The program's goal is to reduce the amount of plastic waste that goes into landfills and to contribute to the environmentally responsible use of resources.
The goal of the Challenge is to collect 500 lbs. of plastic bags and wrap (#2 and #4 plastic film) in 6 months or less. The Trex website provides guidance as to the acceptable and unacceptable kinds of plastic. The Challenge begins following an organization's registration with the TREX Company on their website and the identification of a community partner who is willing to accept the accumulated plastic and truck it to the TREX Company. Many grocery stores and department stores serve as community partners; they are listed on the TREX website. (We were especially appreciative of the partnership with Weis Markets on Crawford Drive in Bethlehem!) Upon registration, TREX ships two cardboard collection bins and a poster identifying the correct types of plastic to the participant.
Once the Challenge has begun and your organization has received the official start and end dates for the Challenge period, the amount (weight) of plastic collected and delivered to the community partner needs to be reported monthly to TREX. When the goal of 500lbs. has been reached within the designated time period, the organization reports this to TREX. In recognition of having completed the Challenge, the TREX Company offers a bench made out of their composite materials to the participant.
Central Moravian's Social Action Committee learned in 2019 about the TREX Plastic Challenge and we contacted the BAM churches to see whether they would be interested in joining us in this project. The response was a resounding and immediate "yes". Within one year, all six Moravian churches – Advent, Central, College Hill, East Hills, Edgeboro and West Side – completed the Challenge.  Jointly, over 3,000lbs. of plastic film was collected that will be recycled and reused. The bench awarded to Central Moravian was graciously donated to Camp Hope and Director Suzanne Curtis was happy to accept it.
There was an increased sense of familiarity and an expressed sense of shared purpose among those involved. There was also consensus that this project brought into sharp focus how much plastic we use day in and day out. The goal, we agreed, must go beyond recycling and reusing. We need to concentrate our efforts on finding ways to use less plastic. In the meantime, we are looking forward to working together on caring for our environment and fostering relationships among our congregations one step at a time…..or maybe one plastic bag at a time.
(For more information:  CLICK HERE)
A Thank You!
Dear Bethlehem Area Moravians,
Thank you for your donation of a beautiful Trex Yacht Club 60" Bench to Camp Hope! I chose the color "Rainforest Canopy" (which seems to be the unofficial color of camp) and am excited to find a home for it. The thoughtful organization and attention to detail that was put into the Trex Bench Challenge is impressive!
I look forward to sharing your process with other groups who may be interested in taking on a similar challenge. What a great way to use those plastic bags that are not permitted in the recycling bins! Once the snow clears and I find a perfect spot for the bench, I will take a picture of it in its new home to share with all those who were involved in the challenge. Thank you for choosing Camp Hope as the recipient of Central Moravian Church's bench. I know that it will be enjoyed by campers for many years to come.
Your Sister in Christ,
Suzanne E. Curtis, Director, Hope Conference and Renewal Center
The Board of Management has decided that we will not be able to have our traditional weeklong summer camps again this year. With Covid restrictions, the experience would not be what we all expect a week at camp to be.
We will be offering weekend cabin rentals for families again for Memorial Day Weekend as well as the last two weekends of June and the month of July. Information for these rentals will be coming out shortly. We are planning on having a full summer long staff to lead activities, games and campfires as well as providing meals and cleaning the camp. If you are 16 or older and would love to spend a summer at camp, please contact the camp office to apply:  908- 459-4435 or [email protected]
Pastoral Changes
Br. Greg Behrend, pastor of Our Savior's Moravian Church in Altura, Minnesota, has accepted the call of the Provincial Elders' Conference to serve as a Church Planter, developing a new faith community in Wisconsin, called You Belong. Greg and Amy will conclude their ministry at Our Savior's on June 27. Between now and then, they will work with the Provincial Elders' Conference, the Western District Executive Board, and the Emerging Ministries Committee to determine the best Wisconsin location to start this new church geared especially toward families and individuals with disabilities. You may learn more about this endeavor by watching a 30-minute video https://youtu.be/koPwlqqSoGk or by checking out their website: www.youbelongwi.org. Opportunities to offer prayer and financial support are available through their website. This is a ministry of the Moravian Church Northern Province, which is providing initial funding, and then partial funding based on growth metrics, for up to five years.
Sr. Sue Koenig has begun her ¼ time call as Director for Racial Justice and Healing for the Moravian Church Northern Province. You may reach Sue for racial justice ministries at [email protected]. This work is in conjunction with a ¾ time call as Pastor of the First Moravian Church of Easton, PA.
As we reach the one-year milestone of this pandemic, we at the BWM would like to reflect on how things have changed in the last year. As an internationally operating non-profit, travel is typical and necessary for the work we do around the world, but this year at home has challenged us to continue fulfilling our call to mission even when we can't physically be present. Throughout our hurricane response in Nicaragua and Honduras, we relied heavily on WhatsApp and good old-fashioned phone calls to communicate with our partners in the area. WhatsApp has allowed us to receive pictures and videos of the devastation as well as the recovery in these areas. Our ability to communicate with our partners abroad has evolved this year and we want our communication with our audience at home to evolve as well.
In the last year, you may have seen more frequent updates to our website, Facebook page, newsletter, YouTube channel, and even Instagram account. We want you to stay informed on our mission work around the world and hope you will take some time to like and follow us on your favorite platforms.
Instagram @moravianboardofworldmission
YouTube @moravianboardofworldmission
To subscribe to our newsletter, visit www.moravian.org/mission/newsletter
Please help us keep you in the know as we continue to build and sustain relationships through Mission Outreach and Mission Engagement while being faithful to the Great Commandment and the Great Commission.
Grants From the BWM
Soon after the onset of Covid-19 restrictions which caused congregations to shift worship services, Bible study, prayer groups, meetings, and fellowship opportunities to online versions, the BWM began offering $200 grants to assist in purchasing software and hardware to make this transition. Altogether, we provided the funding to 68 congregations and organizations totaling over $15,000. This year we are willing to again offer $200 grants to congregations up to a limit of 50 grants.
These will be distributed on a first-come, first-served basis. To apply, please send an email to Chris Giesler ([email protected]) stating how much you are requesting (up to $200) and how you intend to use the funds. We are also asking that congregations report back to us at least one story about how these funds helped you in your ministry. A photograph along with the story would even be better. Grants requests need to be submitted by June 30, 2021. If you have any questions, please contact Chris by email or by phone at 484-221-5489.
Miller to Speak at Steward Sparks Bible Study April 27
We are delighted that The Rev. Betsy Miller, president of the Provincial Elders' Conference, Northern Province, will co-lead our upcoming Steward Sparks bible study on Tuesday, April 27, at 11:00 am EDT. She has selected Mark 12:41-44 (the Widow's Mite) for our conversation. To learn more and to register, please visit our website here.
Curious to know a little more about Betsy? Click here to read on to hear some of her thoughts on all things stewardship.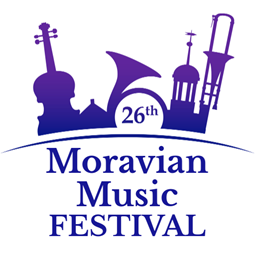 … will be different from any Festival you've ever attended before! Because of ongoing concerns about the COVID-19 pandemic, the MMF Board of Trustees decided in the fall that the 26th Moravian Music Festival, scheduled for 18-24 July 2021, will be an all-virtual event. The Festival will feature a combination of live and pre-recorded worship opportunities, concerts, classes and webinars, and lectures, as well as a separate program for children and youth with a musical theater production! Read about all the plans and put reminders in your calendar to check out frequently!
REGISTRATION IS OPEN!  – find the links at www.MoravianMusicFestival.org
Registration for the Bethlehem Conference this year is FREE!
Concert of Music from the Moravian Collections is FREE!
 This year's conference will be held online by Zoom, including the Walter Vivian Moses Lecture in Moravian Studies on Tuesday, the music concert presented by Moravian Music Foundation on Friday, the Keynote Lecture presented by Moravian Historical Society on Saturday, and all panels, performances, roundtables, and discussions. The conference is sponsored by Moravian Archives, Moravian College, and Center for Moravian Studies, in partnership with Moravian Music Foundation, Moravian Theological Seminary, and Moravian Historical Society.
We encourage MMF friends, and anyone interested, to register because this is the ONLY way you will be able to experience the concert sponsored by the Moravian Music Foundation! Register at http://www.MoravianConferences.org  and you will receive the link to the concert and to all the sessions. You may also make a donation to help the conference offset its expenses!
2021 Online Eastern District Synod June 24-25th
Save These Dates!
Pre-Synod Meetings will be held on the following dates & times:
May 23, 6:30 PM – Ohio
May 23, 8:00 PM – Penn-Mar
May 24, 6:30 PM – DelValley
May 24, 8:00 PM – LV South
May 25, 6:30 PM – LV North
May 25, 8:00 PM – NY Metro/Toronto
Further information regarding sign- ups will be sent to synod delegates by email. If a delegate is unable to attend on their designated night, they can switch to another night as long as they are registered with the synod office.