The Larger Life Foundation celebrated its 100th anniversary in 2020, rejoicing in giving "larger life" to hundreds of ministries and churches in the Moravian Church Northern Province through grants and loans. In its 100 years of service, the Foundation has distributed more than $14,000,000 through its permanent endowment fund. With careful management, capital appreciation, and essential contributions and bequests, the fund itself has grown to over $12,000,000.
While that's the Foundation's current status, it isn't the real story of the impact the Foundation has made on churches and ministries throughout the entire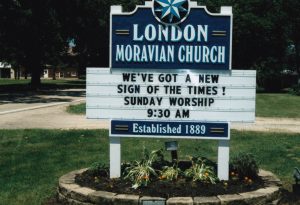 province. Foundation support encompasses world mission, ministerial pensions/health care, ministerial training, educational institutions, camps, retirement communities, social services, archives, provincial administration, plus discretionary grants and loans for important church needs. In 2022 over $500,000 was distributed to 38 entities in the Province, providing both semi-annual support to key ministries and also smaller but substantial discretionary grants to churches and ministries. In addition, the third focus of the Foundation is loans, six of which are currently supporting churches' capital needs.
Because of its financial ministry, the Larger Life Foundation's beneficiaries have enhanced God's work in many ways. Here are a few examples:
Providing ministerial candidate tuition payments at Moravian Theological Seminary;

Funding most of the Middle States Youth Ministries' camping program;

Enhancing pensions and health care of retired Moravian clergy;

Supporting the Board of World Mission in responding to new ministry opportunities and disaster response;

Helping Moravian Open Door, New York City, to offset actual operating expenses and also address sudden, urgent needs;

Maintaining a strong commitment and financial partnership with three Moravian educational institutions and four Moravian retirement communities;

Upgrading youth spaces and nursery rooms at First Moravian Church in

 

Riverside, N.J.;

Start-up funds for Tricklebee Café, Milwaukee, WI to buy kitchen equipment; to help fund their part-time managerial position; to help with creating a promotional mural; and handle a maintenance issue;

Adding an accessibility ramp and railing system at Christ Moravian Church in Calgary, Alberta;

Making critical repairs at Lakeview Moravian Church, Madison, WI. due to basement flooding;

Providing loans to churches in Pennsylvania, New Jersey, New York, Canada, Washington, DC, Minnesota and Wisconsin for capital needs.
At present, 20 major Moravian agencies and ministries are receiving regular, semi-annual financial assistance. This has been a core mission of the Foundation since its founding.
In addition, growth in assets enabled the Foundation in 2011 to establish a discretionary grant program to address current, urgent needs of church congregations and organizations. To date 209 grants have been rewarded to fund small capital projects, jump-start new programs, and meet unexpected expenses. The Foundation also provides loans to churches for critical capital improvements. 
Establishing a fund
It all started 100 years ago when a small group of dedicated Moravians proposed to the Synod of the Northern Province the establishment of an endowment fund to support the educational, evangelical and charitable causes of the Moravian Church Northern Province. The Synod that year authorized a fund drive to raise $750,000 over a five year period, the income of which would be shared with Synod-designated Moravian agencies.
Faith and perseverance finally prevailed. The Great Depression and World War II had intervened; it was not until 1956 that the capital assets of the Larger Life Foundation surpassed the established goal, reaching $810,000.
From an initial contribution of $16.00 in 1920, a firm foundation was laid through gifts and bequests. One of the members of the original "Laity Group" and a driving force behind the movement was Dr. Clarence E. Clewell (1883-1966), who gave 46 years of dedicated service to the Foundation and who promoted a legacy of philanthropy that helped with the Foundation's stability.
Today, the Larger Life Foundation is governed by a Board of Trustees consisting of seven lay members of the Moravian Church, Northern Province, including a member of the Provincial Elders' Conference (PEC). The Foundation is overseen by the PEC/Provincial Synod. The LLF Board regularly reviews the core ministry recipients, discretionary grant applicants, and church loan requests. Current trustees include: Wendy Brockert, President, Lake Mills, WI.; Carolyn Clewell, Bethesda, MD.; Ralph Wanamaker, Bethlehem, PA.; Leonie Burke, Valley Stream NY.; James McMahan, Macungie, PA. ; Stephen Pasquinelli, New Philadelphia OH and Gary Dodd, Hope IN.
For information on our discretionary grant and loan programs and to learn more about the Larger Life Foundation, refer to the Larger Life website at www.largerlifefoundation.org. For additional information on applying for a discretionary grant or a loan, contact Tammy Curcio, Treasurer, 1021 Center St., Bethlehem, PA 18018 or call 610-867-7566, Ext 402. The e-mail contact is [email protected].
The Larger Life Foundation relies exclusively on gifts from individuals, both large and small, to carry out its responsibilities. Like a ripple on a pond when one small pebble is thrown into the water, these financial blessings expand and translate into widespread ministries with far-reaching impact. Gifts include cash, stock, or planned gifts such as estate bequests, charitable gift annuities, etc. The Moravian Ministries Foundation in America can provide guidance about planned gifts to the Larger Life Foundation. Contact them at 119 Brookstown Avenue, Suite 305, Winston-Salem, NC 27101; phone 888-722-7923 or via e-mail at www.mmfa.info.
Carolyn Clewell is member of Central Moravian Church, Bethlehem, Pa., and trustee of the Larger Life Foundation. Watch for additional articles about the work of the Larger Life Foundation through this centennial year.