This year, Moravian Open Door (MOD) celebrates 30 years of serving homeless adults in New York City by providing transitional housing and supportive services at Moravian House, "helping the homeless help themselves." MOD depends on the wonderful volunteers who come often and contribute so much to the lives of those who reside there. We asked Susan Attzs-Mendoza, MOD's Executive Director, and a few of the volunteer groups to tell us what they do, and what this means to those who live at MOD and those who volunteer. Visit MOD's website, www.moravianhouse.org, for more on volunteers in action at MOD.
Executive Director of MOD
Since its inception, volunteers have played an essential part in and for Moravian Open Door. Our volunteers range from pre-teens to seniors. MOD is a popular volunteer site for confirmation class participants, youth groups, adult groups, and Sunday School classes from various churches, as well as for those volunteering as part of Moravian Mission teams. Volunteers come from all around the country. They have made significant contributions in preparing and providing meals for MOD clients; facilitating activities and events; performing repairs and maintenance on the building;  and engaging in various fundraising activities to support our programs and services.
More recently, MOD has seen an increase in the number of volunteers from outside the Moravian Church, including The Church of the Incarnation (Episcopal), Yale Alumni, Godeed, BOMBAS, a local Boy Scout troop, and individuals from the surrounding community. Because of the level of volunteer expertise and participation, MOD saves thousands of dollars in expenses for maintenance and repair projects and for provisions for our clients. Volunteers bring joy and a real sense of worth to the clients at MOD through their concern, fellowship, and caring. Volunteers are also integral to the effective functioning and continuation of this ministry to homeless individuals ages 50 and over. –Susan Attzs-Mendoza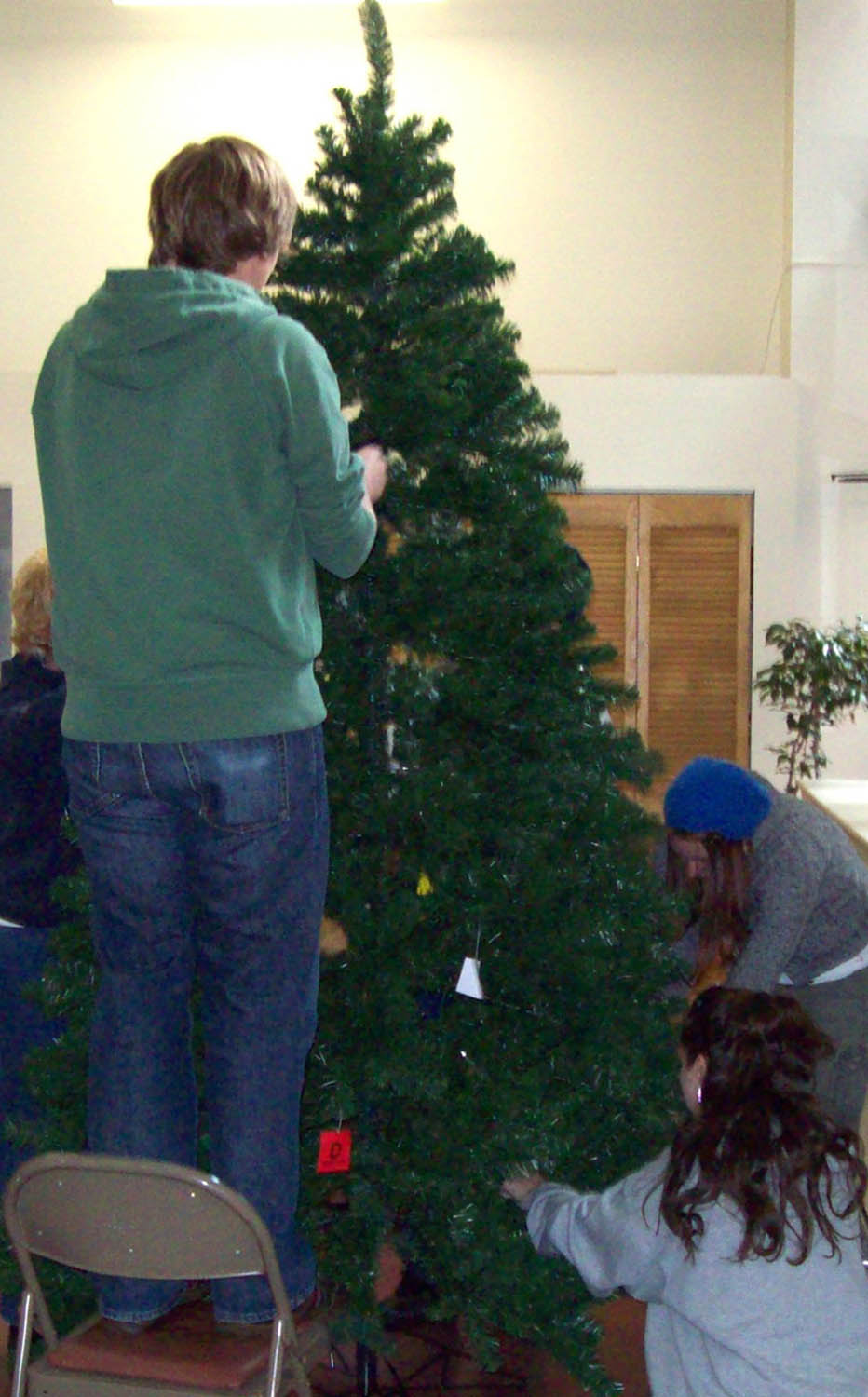 Schoeneck Senior Youth Group
Schoeneck Moravian Church's Senior Youth Group is an enthusiastic bunch of 12 to 18 year-olds.  They love to 'hang' together each Sunday for a meal and to plan some of their annual events. Though they love all of their community service projects, the senior youth have a special place in their hearts for Moravian Open Door.
In 2007, they raised funds to replace MOD's Christmas tree. Every year since, they have made an annual trip in December to set up the tree and decorate it for the Christmas season. The festivities usually include baking cookies for the residents (but to be honest, many are quickly consumed by our own hungry teenagers!). However, the real appeal of the trip is hearing the stories and faith journeys of those who live at MOD.
The youth group collects sheets, blankets, pillows and books for the residents throughout the year. Most recently, they've focused on Moravian Open Door's 'Feed His Sheep' breakfast program. The new focus raises money to support the program—to give a solid beginning to the residents' morning! —Mia Francisco
Palmer Moravian Church
"When strangers become friends . . ." As a young girl, I was connected with a client at MOD and we became pen pals. We only met once in person, but that visit and several years' worth of letters formed a strong bond. This experience had a deep impact on my life, and I wanted others of all ages to have the same kind of experience.
During several visits to MOD with members of Palmer Moravian Church, I watched it happen. Strangers became friends. Through some simple work around the building and time spent playing games and having lunch together, we shared our stories and became connected as sisters and brothers. The room became filled with laughter over hands of gin rummy and growing smiles with each shout of "Bingo!"
After one memorable visit, my 7-year-old son walked out the door onto 18th Street, turned to us, and asked, "When can I see my new best friend again?" He was referring to a particular resident at MOD who had sat, talked, and played with him all afternoon. I knew that my son's life had been changed. He would never hear the word "homeless" uttered in a generic way ever again. He would never accept the stigma or prejudice associated with homelessness. Countless faceless strangers had been replaced with the lasting image of his "best friend."
Volunteers at MOD grow in knowledge and understanding. They feel the deep satisfaction of helping our church serve in Christ's name. Most importantly, they form relationships that become the greatest resource we have in ministry and in life. –Rev. Melissa Johnson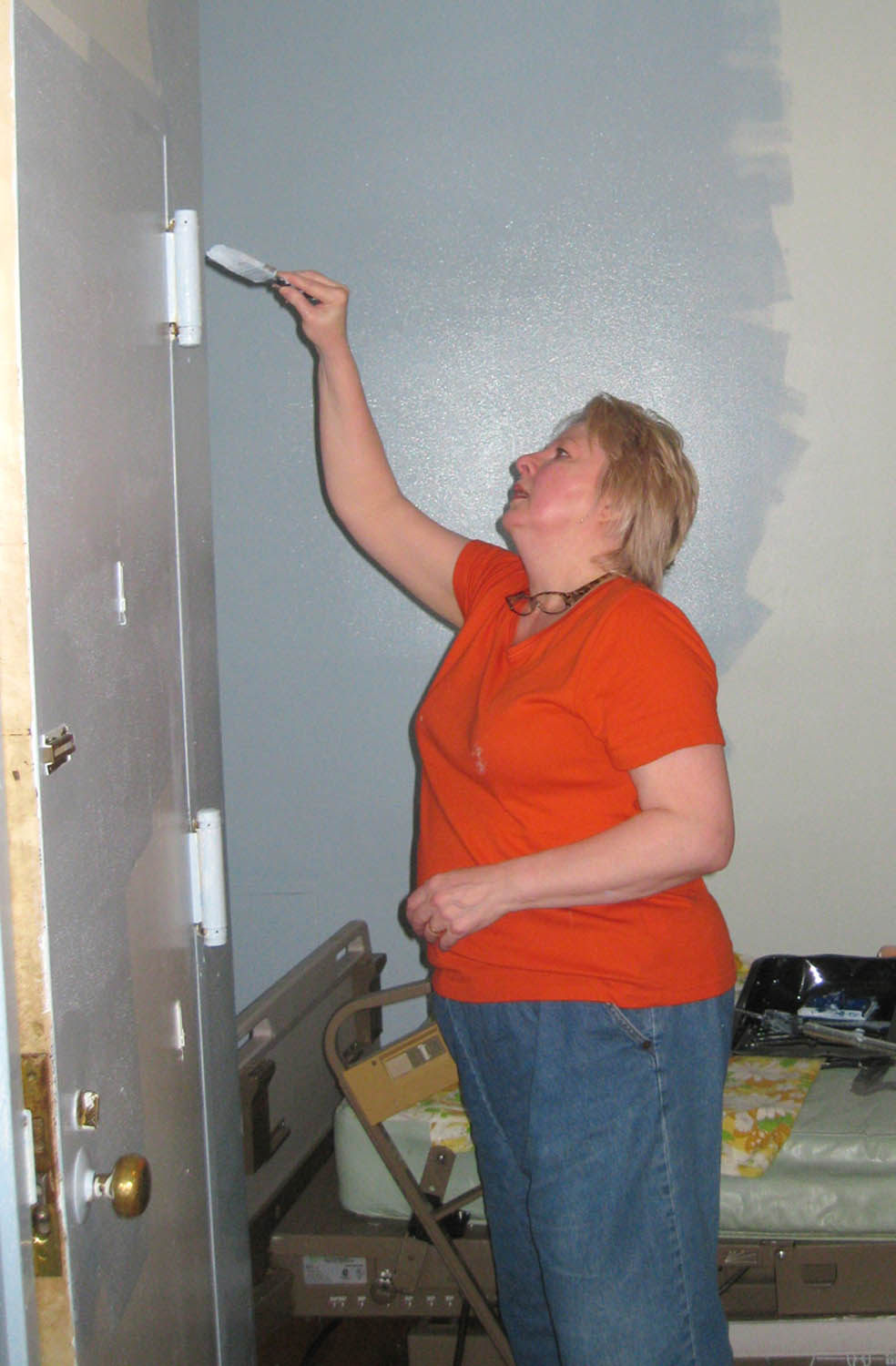 Church of the Incarnation
The Church of the Incarnation (an Episcopal parish) is grateful to call Moravian Open Door one of our community partners. Our ministry with MOD is characterized by mutual joy in fellowship. We don't just come to serve; we come to laugh and have fun together. This is most clearly seen and felt during our bingo nights, theme parties, and other activities that foster an environment of collaboration and celebration. Volunteers from our church cook, collect prizes, plan games and then bring it all to the MOD common room for a good time to be had by all.
While we also do projects off-site—holding a linens drive, writing birthday cards to the residents, making sandwiches and goodie bags—we most enjoy bringing the Incarnation and MOD communities together. One of my favorite events came on the heels of our "Make a Joyful Noise!" campaign. The church collected over $1,000 in loose change for MOD's breakfast program and then brought it to MOD for a coin rolling party. Our parishioners who come to MOD have nothing but heartfelt things to say:
"We love our visits to Moravian House. It is such a warm environment and all of the residents go out of their way to make us feel welcome." 
"MOD is a clean, friendly place for people to share and help one another,—residents, staff and us." 
"MOD is a good thing and anything good puts positive energy into the atmosphere."
"This is what fellowship is all about and I want, very much, to be a part of it."
Our goal has always been growing closer to God and to one another through service in deepening relationship between Incarnation and MOD. I knew this goal had started to materialize when one of the MOD residents called the church to tell us she was moving into her own apartment. We wouldn't be seeing her at our next visit to MOD and she wanted to let us know how much Incarnation had meant to her during her stay. The converse is true as well. At the coin rolling party last summer, one of our youngest parishioners (my then 8-year-old daughter) could be heard quietly singing a song as she gathered a stack of quarters. It was "Right Where I Wanna Be" from a Disney movie. MOD is where we want to be; thank you for having us. – Members of the Church of the Incarnation
John Hus Men's Fellowship
On Saturday, November 18, 2017, 12 men along with our pastor Rev. Michael E. Johnson visited Moravian Open Door. Our visit was an intentional one in sharing the love of God with those residing at Moravian House. We prepared a pre-Thanksgiving meal at our church and took it to MOD where we fellowshiped with the residents and staff. There was enough food for everyone with leftovers for another day. What a joy to experience the happiness on their faces and to hear their positive comments. We also took the time to pray with them before we left. We were blessed and will do it again. —Winston Peart 
Mission group from the Midwest
Just as the Statue of Liberty in New York harbor heralds welcome and shelter for those in need, Moravian Open Door responds to a pressing need for more permanent housing for homeless individuals. The staff of MOD extends an invitation to people to visit, volunteer and meet the folks that call MOD "home."
On several occasions I have had the privilege of supporting the MOD community by accompanying groups of young people and adults to the housing facility. Under the guidance and direction of MOD's dedicated staff, we have provided assistance in a variety of ways: working with individuals to gain computer skills; washing down and painting hallways, bedrooms, and bathrooms; tidying the entrance to the front door and the outdoor courtyard; providing light janitorial tasks; and preparing, then sharing, meals with the residents in the dining/gathering room. We have carried bratwurst from Wisconsin for tailgate fare as well as shopped local grocery stores to prepare the meals.
The highlight of our time at MOD was not in the tasks that we accomplished; rather, it was our time with the residents we met. As we became acquainted with the residents, we were given a glimpse into the experiences of their lives and the challenges they have faced that qualified them to seek and secure temporary housing at MOD. They express how grateful they are for the safe environment that the caring staff of MOD provides.
As volunteers, we intersect the residents' lives for a brief amount of time; however, our hearts are touched by the intimate stories that we are privileged to hear. We learn of physical and mental health issues that impair the ability to find and maintain employment, the fractured relationships and estrangement from family and other support networks that result from personal addiction or substance abuse, the despair and abuse that occurs while homeless, or the accumulation of negative occurrences in life that overpower a person to the degree that they can no longer manage.
We gain a deeper understanding of the meaning and importance of venturing out from our home communities in order to interact with others where they live and the care and support we can offer in the way that God calls us. —Jill Kolodziej, Director of Antioch, Board of World Mission
This article was compiled by Doris Schattschneider, President of MOD's Board of Directors. For more information on Moravian Open Door, visit www.moravianhouse.org.