Wisconsin Moravians planning new congregation more inclusive for individuals with disabilities
We are incredibly excited to share that the Moravian Church Northern Province is developing a new congregation called You Belong in Green Bay, Wisconsin. For years, my wife Amy and I have had a dream of creating a church that works to be more inclusive for individuals living with disabilities. Our passion and calling in life is to care for people with disabilities and to help our society understand new ways in which we are intentionally inclusive in all areas of life, including the church.
You Belong is committed to sharing the love of Christ while being grounded in inclusion, love and compassionate care. We aspire to be a church home for all people, of all walks of life, but to live that out in such a way that each person feels truly included in all that we do. We believe that everyone is wonderfully made in the image of God and is loved by God, and, as a developing faith community, we hope to reflect that love of God.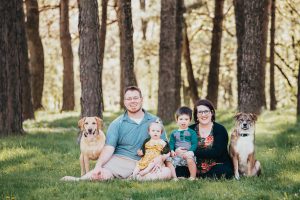 A divine seed planted long ago
This dream started on January 4th, 2011. On that day, God planted a seed in my heart that would change my life forever. I was having a once-in-a-lifetime journey traveling through the Holy Land in Israel with a group of Moravian peers during Young Adult Convo. As you can imagine, this trip was humbling as we journeyed through the places that Jesus once walked centuries ago.
However, the most humbling moment of the trip for me was not the steps Jesus had made 2000 years ago; instead, it was a place that Christ was very much alive and at work today. We traveled into Palestine to visit the Star Mountain Rehabilitation Center in Ramallah on the West Bank. Star Mountain is an undertaking of the Worldwide Moravian Church and is a wonderful ministry working to care for individuals living with disabilities in this part of the world. 
I remember walking up the hill onto the campus and the first two people we met were a physical therapist working with a young boy who was learning to walk using a walker. As we approached them, the boy looked up at us, standing firmly on his feet, and smiled with such happiness. My heart was instantly flooded with joy, compassion and an overwhelming sense of not knowing what to do or what to say.
Like many people, I had little experience being in relationship with someone who lived with a disability. I was a bit uncomfortable as we toured around the campus and met more students, residents and staff. Later, as we were standing in a larger room listening to the director, the physical therapist we first met when we arrived came into the room and stood next to me. I was eager to learn his story: what led him to this work at Star Mountain. We talked for a while and then he said something to me that would change my life forever. He said "Many people come here because they have compassion for people with disabilities and they want to help, that's why I came initially.
"What I did not realize was that building relationships with these people would serve me much more than I could ever serve them. They don't want my pity, they want someone who walks alongside of them as Jesus calls us to. They want friendship and love, and that's what inspires me to get up and come here each day." That was a divine voice that would lead to a decade of dreaming and visioning.
A dream became a vision
Over the next decade, Amy and I started to serve locally within the disability community in our personal lives. Through this work, we began to hear more and more stories from friends and families in the disability community who felt unsupported and excluded by the church. Heartbroken by these stories, we began to sense that our call was to find a way to renew the church of today in a way that focuses on making church both physically and programmatically accessible for all people.
As our plans developed, our biggest challenge was what many churches currently face: how do we make this unique congregation sustainable? As we considered an integrated congregation that would be made up of a core group of individuals with disabilities, we recognized the reality that in our world today, many of these individuals struggle to find employment that pays a livable wage, and many families may be struggling with medical expenses. With financial limitations a serious consideration, we continued to explore ideas of how we might create some sort of church model that would generate sustainability, so that the church would not rely solely on the faithful giving of congregational members.
As we kept trying to imagine this new church, our passion for people expanded when we welcomed our own children into the world. It was at this time that Amy began teaching as a parent educator for the Early Childhood Family Education program in our local school district; a lot of our time and energy was focused on caring for families and children. Suddenly, we started hearing similar stories from families who also had felt excluded by many churches today. This fueled our deep passion for serving both people with disabilities and their families.
Then one day (before COVID), we began to see a clear path to our vision as we were sitting in an indoor children's center called Kids in Motion. The space was filled with indoor playgrounds and climbing equipment, bubble machines and themed rooms with dinosaurs, trains, and much more! Our children loved it and so did we; although we could not help but notice the limitations that the space had for people with disabilities. In a moment, the dream we had held onto for years suddenly became a vision, and our calling for You Belong was born.
Our potential answer to creating sustainability for You Belong is to create a non-profit learning and play center operated by the church and designed for families with children. We are calling this proposal The Adventure Zone. Designed to be fully accessible, The Adventure Zone will focus on providing parents and children with access to resources and support through family education classes and a safe space to learn and play year-round. It can be open to the public and operated daily throughout the week in an effort to help generate revenue to sustain the church building, while it also works to enhance the ministry of You Belong.
"The Provincial Elders' Conference is thrilled to partner with Br. Greg in this call to plant a new worshiping community in Green Bay, Wisconsin," said the Rev. Dr. Betsy Miller, president of the Northern Province Provincial Elders' Conference. "Over the past months, it has become clear to us that God is calling Greg to this ministry, and we are pleased to walk with Greg and Amy on this journey. For over a year, Greg has been working with Rev. Ben Ingebretson, our director of church planting and emerging ministries, to discern this call, become assessed for the gifts and graces needed to plant a new church, and develop a plan and resources to launch this new ministry.
"The Provincial Elders' Conference has committed financial resources, on a declining scale over five years, to help launch You Belong. Built into this support is additional funding from individuals and groups across the wider church. We look forward to seeing how God's mission to the world is incarnated through You Belong and invite you to join us in praying for God's guidance and blessing."
To learn more or to support this new church and ministries through a donation visit our website at youbelongwi.org.
The Rev. Greg Behrend will lead You Belong in Green Bay, Wisconsin. He most recently served Our Savior's Moravian Church in Altura, Minn.