As the globally-minded mission agency of the Moravian Church in North America, the Board of World Mission (BWM) holds the privilege and responsibility of developing and maintaining direct partnerships with our partner churches around the globe. For a very long time, the care and continuance of these relationships relied on repeated in-person visits to foster trust and plan strategically together for the growth and development of leaders and whole churches. 
When the global pandemic stuck, it erased all travel plans by BWM staff for much of 2020 and 2021. Only in 2022 have all of the flight credits accumulated from cancelled flights finally been used to get back out into the field for in-person visits.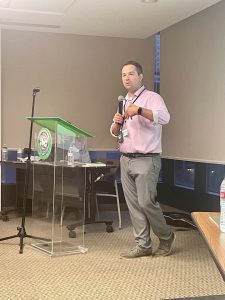 To stay in touch with our global partners, it was necessary to develop new communication opportunities that went beyond "we will talk about it in-person the next time I visit." In some cases, this was led by just an earnest desire for updates on ministries, local conditions, and prayer concerns during a time of global uncertainty. In other cases, urgent situations, like the response to the damage of Hurricanes Eta and Iota hitting the Atlantic coast of Honduras and Nicaragua required direct online communication with partners to mobilize hundreds of thousands of dollars of generous donations to the Moravian Disaster Response program.
As these contacts grew between BWM and more global partners, we looked at options to connect people in small groups or one-on-one with one another via messaging tools like WhatsApp. 
BWM's recent focus on the important work of translating resources outlining the history, theology, structure and governance of the Moravian Unity into the languages native to the places where we are called to do our work added to this increased communication.  Translation from English to Spanish of the "Church Order of the Unitas Fratrum" (COUF) which is the book of order of the Moravian Unity, and a resource designed as a primer in our church's history and theology titled, Our Moravian Treasures, represented the first steps in this process. 
As BWM began to electronically share these resources, we were encouraged when
Rev. Christopher Valencia Alcantara in Perú offered an online course studying Our Moravian Treasures; this course was joined via WhatsApp by Moravians in Cuba. The discussion of the content was enriched by participants sharing from their context and being able to go into detail and nuance not possible had the presentation been made by a non-native Spanish speaker.
As renewed visits by BWM staff and representatives to individual partners resumed, we recognized what a blessing it would be to bring leaders from our global partners together in a single space to share and learn together. The reality of a global church often means that Unity-wide gatherings take place in English, as the common language. This had excluded many leaders from our Spanish speaking partners from being able to attend global gatherings.
Recognizing these realities, and the potential for renewing energy in a large portion of the Latin America and Caribbean region of the Moravian Church the idea to hold a leadership and resource conference, facilitated in Spanish, was born. 
A year of planning, pre-meetings with delegates to share resources, and receiving surveys to help shape conference presentations led to the reality of this vision in September 2022, in Panama City, Panama in the form of the "Conferencia de Recursos Moravos" (or "Moravian Resource Conference").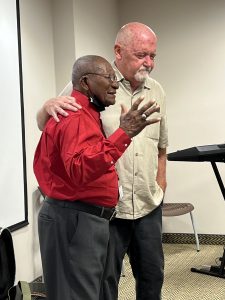 The group brought together representatives from ten countries, with Moravian delegates representing the Ahuas Clinic, the Costa Rican Province, the Cuban Mission Province, the Honduras Unity Province, the Honduras Mission Province, the Nicaraguan Province, and the Mission Area of Perú as well as guests from prospective new areas of work in Brazil, Bolivia, and a small group of Moravians worshiping in Panama.
Conference participants discussed a variety of topics including: Unity structure, how to plan a Synod, financial administration in the church, leadership as servanthood, and more. BWM distributed physical and digital copies and provided guidance on how to use the Church Order of the Unitas Fratrum and Our Moravian Treasures. The group of 45 delegates and presenters spent four days studying these topics, worshiping together, and enjoying fellowship time, including a group tour of Casco Viejo and the Panama Canal's Miraflores Locks. 
Participants expressed their gratitude for this opportunity to build relationships, gain resources and discuss current challenges with Moravians in their region who may be experiencing similar joys and concerns.
Joaquin Muro, president, Moravian Church
in Perú, said, "This conference will really help
me apply the knowledge gained in my area
to have a more united and solid church
to continue the work of God."
Leo Pixley, President of the Moravian Church in Costa Rica, offered, "I have learned so many things that I can take home to help remind the people that Costa Rica is not out there alone, but are part of a big body this covers the whole world, bringing the Gospel to the people."
"In my view, one important result of this conference will be that all who were there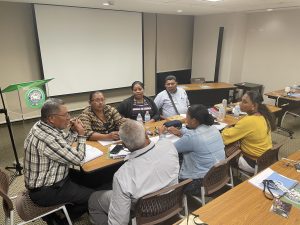 are now interconnected," said Bishop Armando Rusindo from Cuba. "And, through us, all of our Provinces and areas are now also interconnected. This will be tremendously powerful, especially now in the moments where we see the Moravian work in Latin America emerging so powerfully with such great potential. This conference was an extraordinary idea because now the work in the region has been strengthened with increased knowledge, training and tools. In fact, the Moravian identity has been strengthened, and in turn the whole of the Unity has been strengthened." 
The BWM is overwhelmed with gratitude for the presenters and planners who made this Conferencia de Recursos Moravos a meaningful experience for our delegates. Thanks to Rev. Dr. Jørgen Bøytler, Unity Business Administrator; Bishop Armando Rusindo; Bishop Sam Gray; Bishop Kingsley Lewis; Brother Rick Nelson; Rev. Dr. Betsy Miller, President of the Northern Province PEC; Brother Leo Pixley, Chair of the Provincial Board in Costa Rica; Rev. Dr. Dion Christopher; Sister Julie Tomberlin, Unity Women's Desk Coordinator; Brother Justin Rabbach; Rev. Angelica Regalado-Cieza; Bishop Chris Giesler; and Sister Sylvie Hauser.