For all the studies and the work now done
are but the start of service now begun.
Yet, in this time, a moment's rest is won.
Alleluia! Alleluia! *
In sparkling sunshine under brilliant blue skies, the Moravian Theological Seminary Class of 2023 entered Bethlehem's College Hill Moravian Church on Saturday, May 6, to the joyful, jaunty strains of A Trumpet Tune, played by organist Gayle Justice of Edgeboro Moravian Church. The commencement service marked the successful completion of Moravian Seminary's 216th year in preparing leaders for service in the church and society.
Dr. Bryon Grigsby, president of Moravian University, Moravian Theological Seminary and Lancaster Theological Seminary, and the Rev. Dr. Heather H. Vacek, vice president and dean of the two seminaries, presided over the service. Following Dean Vacek's welcoming remarks, the Rev. Dr. Melvin Baber, Joint Seminary Director of Field Education & Supervised Ministry, offered a Liturgy of Gratitude that concluded, "May all that we do and say be a witness, be a prayer, and be a celebration."
The Rev. Dr. Elizabeth (Betsy) Miller, chair of the Moravian Seminary Board of Trustees and president of the Provincial Elders' Conference of the Moravian Church Northern Province, delivered the commencement address titled, "Distracted Leading," based on Exodus 3:1-4 and Luke 1:26-38.
Rev. Miller invited graduates "…to notice what God is doing all around you – in the challenges, the people, the unexpected events and the margins. I invite you to get distracted and be curious enough to head off the beaten path long enough to listen, learn and then return to tell the world, with bold and prophetic witness, what you experienced. … God – and your seminary education – have equipped you to step into that space with the knowledge and compassion to speak truth to power, hope to the marginalized and love to all. You came to seminary because God called you. How is God calling to you now? How will you respond?"
During the ceremony, Moravian Theological Seminary conferred one Graduate Certificate in Moravian Studies, two Master of Divinity degrees, and two Master of Arts in Clinical Counseling degrees. These are the members of the Class of 2023:
Mikayla Sauerbrey, who received a Master of Divinity degree with distinction, was honored by the faculty with two academic prizes: The Cora Doster Moses Memorial Homiletics Prize for the best work in preaching and The John David Bishop Memorial Prize for superior scholarship, participation, and personality suited to ministry. Mikayla is a candidate for ordination with the Moravian Church Northern Province. She lives in Bethlehem, Pa.
Noah Smith of Kernersville, N.C., received a Master of Divinity degree with distinction. After completing his Clinical Pastoral Education requirement this summer at Wake Forest Baptist Hospital in Winston-Salem, N.C., he plans to pursue ordination in the Moravian Church Southern Province. Moravian Seminary faculty honored Noah with The Rev. Elmer Bender Memorial Award for reflecting Rev. Bender's qualities of leadership and integrity.
Jeremy Lau received a Master of Arts in Clinical Counseling degree with distinction. A Bethlehem resident, Jeremy delivered the graduate address. The faculty awarded Jeremy two academic prizes: The Barbara Martin Stout Counseling Prize for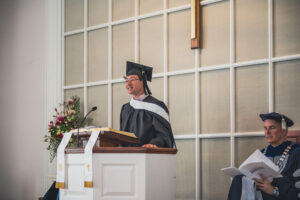 outstanding academic achievement and professional development in the ministry of counseling, and The Faculty Academic Prize for maintaining a high academic standing and exemplifying superior creative scholarship. Jeremy will continue his education with Moravian Seminary as he pursues a Master of Arts in Theological Studies. He works with the Lehigh Valley Health Network as an outpatient mental health professional offering spiritually integrated therapy and acute behavioral health treatment.
Completing the Class of 2023 is Jo-Ann Tipple of Claverack, NY, who received a Master of Arts in Clinical Counseling. Ordained in the Reformed Church in America, Jo-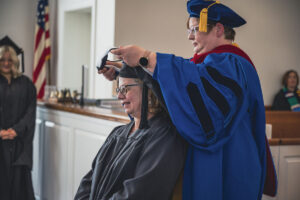 Ann plans to seek certification as a death doula while finding employment in the mental health field.
Receiving her Graduate Certificate in Moravian Studies was the Rev. Jamie Almquist, newly ordained who has accepted a call in the Moravian Church as a congregational pastor at Good Shepherd Community Church in Calgary, Alberta, Canada.
Following commencement, the graduates and their loved ones joined the Seminary trustees, administration, faculty and staff for a celebratory reception in the Bahnson Center Saal.
Echoing the Rev. Jennika Borger, chaplain of Moravian University and Moravian Seminary, who prayed the Education Doxology with the assembled participants: "For the gifts of lasting wisdom and unlimited chances, we give you thanks. Now and forever. Amen."
The one-hour commencement service is available at https://vimeo.com/824431557.
Visit Moravian Theological Seminary online at www.moravianseminary.edu to learn about our accessible degree and certificate programs. 
*Taken from the processional song, For All These Students, lyrics by Moravian Seminary Associate Professor Rev. Dr. C. Riddick Weber (2015).
Meg Graham is director, joint seminary communication & marketing for Moravian and Lancaster Theological Seminaries. Photos by Nick Chismar.