"Is that in the Google classroom?"
"I just stuck it in there this morning."
"Is that for the 31st or the 7th?"
"All right – how does that look? What do you all think?"
"I thought this one could be fun."
"I think that's a great idea."
Are these the voices of school teachers, curriculum developers or media specialists, coordinating their classroom materials for a new semester of students' imminent return to the classroom?
No! These are the voices of Moravian educators, pastors, student pastors and resource specialists compiling their collective curricula resources, education and experience to craft a Sunday School experience like no other.
Beginning in the fall of 2020, Collaborative Moravians began meeting together to create a virtual opportunity for Sunday
School. A few churches had collaborated before over virtual summer Vacation Bible School opportunities and saw the Fall calendar as a mission field for exploring faith formation with families in a new way. While families could not physically gather in person, we took the opportunity to gather together and experience faith formation at home.
The effort took off with participation that exceeded our wildest hopes, as more than 80 children signed up for the fall session of crafts, biblical lessons, cooking activities and coloring pages. Each Sunday morning, we gathered with students and families from across the miles. Our time opened with a lively song and community "singing" in American Sign Language. Each week we added more opportunities for children to be involved in faith formation—both virtually through our shared class time together, and within their own homes as parents and older siblings worked through the materials and activities together.
The fall Sunday School class studied the Beatitudes. Children shared photographs and short videos of their projects and artwork via FlipGrid, a simple, free, accessible video discussion experience that allowed students from all five participating churches to interact with one another. Families from Home Moravian, Unity Moravian, Raleigh Moravian, Kernersville Moravian and Estamos Unidos Moravian Ministry joined together each Sunday morning at 9:30. Small groups also met after the large group for more discussion, further strengthening the bonds of children from around the Southern Province with one another.
During the 11-week session, children made pineapple upside down cakes as we learned that Jesus's Beatitudes turned the world's expectations "upside down!" Several considerate students shared their creations with friends and neighbors and one especially kind young lady shared hers with her pastor!
Each session included a Godly Play lesson taught by Sister Margaret Norris and Pastor Christy Clore. Several sessions of Story-and-Stretch were adapted and taught by Sister Jami Vandock and other members and leaders from all five churches supported the effort with special cooking classes, craft videos and music instruction. Pastor Angelica Regalado-Cieza, Pastor Christy Clore and Dana Myers prayed closing prayers for each session in both English and Spanish.
After such a successful fall Sunday School program, leaders from the churches collaborated again to create Advent craft kits for families featuring instructions and materials to make four crafts correlating to each week in Advent. We were treated to tutorial videos from Chancy Kapp, Stephanie Frazier, Pastor Craig and Anna Troutman, Miles Frazier, and Ann Winstead from Raleigh Moravian. Each video showed families how to create their own Advent wreath, Christingle, peg people putz, and folded paper Moravian stars. The Advent collaboration was another blessing for families and another opportunity to collaborate and imagine faith formation in a new way. More than 100 children representing more than 70 families participated in the Advent series of crafts and devotions that included hymn reflections, nature walks and even a specially curated playlist of Advent hymns compiled by Rev. Nola Knouse!
2021 brings new opportunities to imagine faith formation and community collaboration for children and families.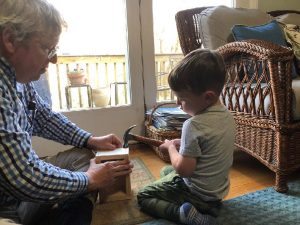 Collaborative Moravians is expanding our horizons into the Northern Province and beyond as we welcome any and all Moravian churches to engage and contribute to virtual faith formation. Beth Hayes and Marie Couts have joined in weekly Zoom meetings to collaborate and help the five church leaders imagine what virtual faith formation will look like in the spring and beyond. We've discussed hybrid learning opportunities where children and families can gather in outdoor spaces while still honoring Covid-19 safety protocols and are imagining together an opportunity whereby every church family can participate in a scavenger hunt correlated to our curriculum, and safely accomplished by families completing the activity during a Sunday afternoon drive.
We have often used the phrase "When things get back to normal" over the past year when discussing our post-pandemic hopes. But Collaborative Moravians have cleverly crafted a "new normal" where children learn and sing in English, Spanish and ASL; where families participate in Sunday school weekly (and together); where faith formation happens around the dinner table or in the car; where meal preparation and other daily activities become opportunities to cast light on God's work in our daily world.    While some things the pandemic wrought this past year have been terribly debilitating and painful, we are grateful to God for bringing other imaginative adaptations that allow us to experience God's full hope for unity and joint partnership in the work of sharing the Good News of God's Kin-Dom with all of God's family!
If you or your church would be interested in participating or learning more about the work of Collaborative Moravians, email Jami Vandock at [email protected]
Dana Myers currently serves as pastoral intern at Unity Moravian Church in Winston-Salem, N.C.