Living through the pandemic has been like building a bridge one plank at a time across a flooding river . . . the end seems to be in sight, but we continue to underestimate the time and effort it will take to get to solid ground.
For the 2020-21 academic year at Moravian Seminary, we continued to build the bridge, and for most of the year, the river's edge felt out of reach. All courses for the entire year were offered online only, and Bahnson Center was occupied by a handful of staff. Faculty and students got into the rhythm of making personal connections through Zoom, but the usual buzz in the building felt like a distant memory as we awaited restrictions to lift.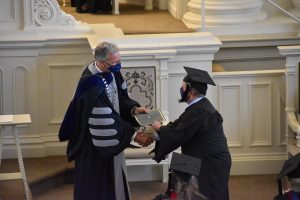 As the winter turned to spring and the reality of vaccinations brought new hope, our sights turned to commencement and the prospect of honoring our graduates in person. We patiently waited for the Board of Elders at Central Moravian Church to determine when it would be safe to open their sanctuary, as we hoped to hold our graduation service there. On April 14 we received word that Central would return to in-person worship services, and we would be permitted to hold our ceremony there three weeks later.
So with all Covid precautions in place, Moravian Theological Seminary concluded its 214th year with a graduation ceremony honoring both our 2020 and 2021 graduates on May 8, 2021. In a sanctuary that could hold over a thousand, we filled the space from corner to corner with 180 masked and appropriately-distanced individuals. For many in attendance, it was the largest number of people they had been with in over a year. Due to the size of the sanctuary, "family pods" sat together in every other pew. Graduates sat "together" six feet apart. Ceremony leaders and speakers fanned out across the pulpit and front of the church.
Eleven of the 25 graduates from 2020 returned to be hooded, joining 17 of the 19 2021 seniors at the Commencement Service, which was presided over by President Bryon Grigsby and Interim Dean Craig Atwood.
Among the Moravians in the 2021 graduating class was Charlie McDonald, a member of Edgeboro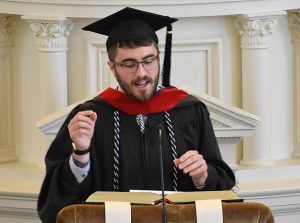 Moravian Church and recent pastoral intern at the Emmaus congregation. Charlie received the Master of Divinity with the academic honor of distinction (earning a grade point average of 3.9 and above). Charlie was selected by his fellow seniors to give the Senior Address at the ceremony. He was also honored with the John David Bishop Memorial Prize, given to an MDiv graduate in recognition for their scholarship, development of personality suited for ministry, and leadership of the Seminary community. Charlie has accepted a call to serve the Chaska Moravian Church in Chaska, Minn., and began his ministry there in July.
Scott Rainey, from the Bethania, N.C., congregation, will complete his MDiv this summer after concluding the Clinical Pastoral Education program at Wake Forest Baptist Hospital in Winston-Salem. At the graduation service, Scott received the Bender Memorial Prize in Moravian Ministry, recognizing his gifts and skills for serving in pastoral ministry. He also earned the academic honor of distinction. Scott looks toward pastoral ministry in the Southern Province at the conclusion of the summer.
Receiving the Certificate in Moravian Studies were Adriana Craver, from the Konnoak Hills congregation in Winston-Salem, and Reed Lawson, who completed his supervised ministry at the Friedland congregation in Winston-Salem. Both recently earned the Master of Divinity from Wake Forest University School of Divinity. Adriana was awarded the Hamilton Biblical Language Prize for outstanding work in Greek, and will head to a CPE residency in Florida. Reed is a candidate for ministry in the Southern Province.
Robin Hannig, a member at Palmer Moravian Church, completed the Master of Arts in Theological Studies with a chaplaincy track, and the Certificate in Biblical Studies. She was chosen by the faculty to receive the Faculty Academic Prize, awarded to the student who maintains a high academic standing and also exemplifies superior, creative scholarship.
Ezekiel Kassanga from Tanzania will complete his Master of Arts in Theological Studies this summer. After he returns home to Tabora, Tanzania, he hopes to work in education and further the work of his thesis, which offers a theological framework for churches to accept and advocate for unwed mothers in their congregations. At present, unwed mothers are often removed and excluded from membership of a church community.
Though not a graduate, but a student in the Moravian History course, Paul Stutzman, pastoral assistant at Clemmons Moravian Church in Clemmons, N.C., was awarded in absentia the Frueauff Prize in Moravian History for outstanding classwork and research in the field of Moravian history.
We congratulate all of our 2021 graduates and award recipients: the six Moravians mentioned here, as
well as the 13 other graduates who make up our school's rich tapestry of faith traditions. Master of Arts in Chaplaincy: Grace Newswanger (Lutheran); Master of Arts in Clinical Counseling: Kennedy Ahn (Nondenominational), Carla Bello (Nondenominational), Rebecca Coventry (Methodist), Rasbell Espiritu (Pentecostal), Sarah Moussa (Presbyterian), Jessica Robinson, Andy Romeo (Presbyterian), Dan Uncles (Unitarian), Mike Moeller (Methodist), Eric Schwartz (Nondenominational); Master of Divinity: Meagan Ackerman (Methodist), Will Colon (Methodist).
We look forward to each of our graduates unfolding calls. We also look forward to reporting about the many changes that are occurring at Moravian Seminary that include retirements, new dean and faculty, change of degree programs, and partnerships — stay tuned.
Jane Weber is Director of Administration at Moravian Theological Seminary
Ed. Note: In our next issue, we will include coverage of a new agreement between Moravian Theological Seminary and Lancaster Seminary.