Those experiencing homelessness are met with many challenges, but one of the greatest needs is the need to belong—that desire to be a part of something—and to be valued as a person. In Winston-Salem, N.C., a new ministry, created in partnership between the Moravian Church in America, Southern Province, and the Evangelical Lutheran Church in America (ELCA), has begun to service this need.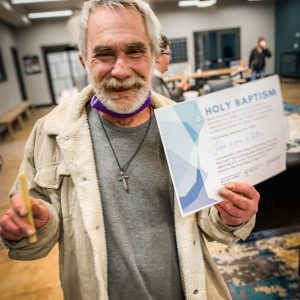 At The Dwelling, people come and are treated with the same love that God offers each of us. Through this newly federated mission between the two denominations, those experiencing homelessness have a place to worship, be fed and to get a shower—they have a place to be restored and a place to belong.
Pastor Emily Norris, an ELCA pastor who leads The Dwelling, was inspired by a meeting she attended a few years ago about the needs of the homeless. She wanted those experiencing homelessness to understand their value in Christ, not in their housing status.
The Dwelling was envisioned as a church/gathering place, a place to find a meal and a shower ministry. The partnership was officially established on August 13, 2020, a spiritual birthday of the Moravian Church and has since met with many challenges, including restrictions due to the COVID pandemic. "Our primary ministry was going to be the church, but safety restrictions made it impossible," said Emily. It was time to change direction.
Assessing the community needs, Pastor Emily decided the shower ministry would be their anchor ministry. "The most surprising thing about The Dwelling and it's ministries is how quickly it took off," said Emily. "When we don't put limitations on the work of the Holy Spirit, amazing things can happen. People's generosity caught fire in so many hearts. We were able to staff the showers, and as restrictions were lifted, we were also able to provide worship, feed our guests, and do so many other wonderful things."
Emily is careful about the language she uses when speaking of those she serves. "Words matter. We say 'our neighbors experiencing homelessness', rather than just calling people homeless because people aren't their housing status," she continued. "We are sisters, brothers, spouses, parents and children. We need to use better language to help our neighbors find their value in themselves, not in their housing status."
Pastor Emily teaches that our identity should be rooted in Christ first. We are wanderers, seekers, questioners and doubters—some feel worthy and others unworthy—but we are all God's people.
"Both Lutherans and Moravians are very similar in beliefs, and more significantly, in their approach to service to God's people," says Emily. "The Lutherans have been instrumental in the bureaucratic process of establishing a new mission, securing grant funding, and supporting the first summer of Service Learning groups. Moravians made sure the shower ministry got off the ground and several Moravian vacation Bible schools collected nearly 200 shower kits for this ministry."
Not only are the two denominations invested in making this ministry happen with a location and resources, but both churches help care for the people. "Lutheran and Moravian pastors volunteer to be the 'theologian in the room' for our weekly neighbor-led Bible studies," she continues. "We believe all are welcome, including those who may not have a home or who may feel separated from God due to their own brokenness."
A Place to Worship
Sundays are the most difficult days of the week for those who are experiencing homelessness. They
struggle to find services and respite. Public libraries are closed or have limited hours, public transportation runs a modified schedule and many soup kitchens are closed, or run on a limited schedule. The Church should be that place of rest and renewal for everyone, regardless of housing status. Most of us want a sense of belonging and a community that surrounds us, and treats us with dignity and respect. At The Dwelling, people find their identity in Christ, changing the narrative of what they believe about themselves.
"People gather together for fellowship, share food and worship together," said Pastor Emily. "They come to have both their physical and spiritual needs met. They enter looking for a place to belong and they find so much more."
God has blessed everyone with gifts and talents to be used to tell the world that God is good. At The Dwelling, attendees are encouraged to look at their gifts and use them—whether they are musicians, poets, builders, artists or coffee brewers—everyone has a place to use their gifts at The Dwelling.
"The church is open to everyone in the community," Emily continues, "not just those experiencing homelessness."
Attendees share and proclaim God's word together through gospel hymns, contemporary music, poetry or even silence. Worship at The Dwelling reflects the diversity of the people who attend. It is the unique and personal gifts of each person that make The Dwelling a place to gather around God's holy table and find a place of true belonging.
A Shower
With the shower ministry being the anchor for The Dwelling, they are able to provide one of the basic human needs: a place to be refreshed and renewed by water. Those who have a home can get a shower whenever they want, but for those who are experiencing homelessness, a shower must be "scheduled" at a facility that offers public showers. The Dwelling understands that a shower is a basic human luxury and any person who needs a shower is able to renew themselves through water and perhaps be reminded of their baptism.
The Dwelling is able to offer dignity and healing through this gift of water, as well as the gifts of underwear, socks, toiletries and t-shirts. The shower trailer moves between four different shelters in the Winston-Salem neighborhoods during the winter months, and the remainder of the year they have the shower trailer set up at the Community First Center every Tuesday, Wednesday and Thursday morning. The shower trailer is able to provide 30-40 warm showers to guests each time they set up a location. Donations of toiletries, towels, washcloths, laundry detergent and dryer sheets are always welcome, as well as monetary donations to cover the cost of propane and water used for the showers.
The Dwelling is making deeper connections in the community. "Part of our ability to connect those in need with the many services available to them, is the trust we have earned in being part of a faith community together," Emily continues. "It is powerful to be church together in the trenches—outside our worship space. As The Dwelling continues to grow, so does our credibility with our community members and the impact of our ministry field."
Service Learning Experience
This summer, The Dwelling began offering Service Learning Experiences for individuals and churches to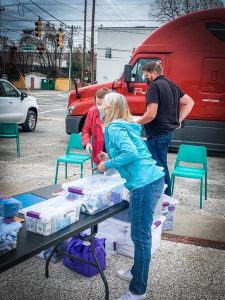 come learn about the challenges of homelessness and what can be done in their own communities. Staff and volunteers take participants through the complexities of the systems that are already in place that perpetuate homelessness, and teach how the church can respond and advocate for justice, including access to mental health care, affordable housing and many other services that may be available in their own communities.
This service experience equips people with knowledge and gives attendees a look into the hearts of those serving in this ministry. "The Dwelling lets people know that they are beloved to God and to us; that they are children of a God who aches alongside them, rejoices with them, cares deeply for them, loves them beyond description, and will never abandon them," said Emily. "If there was one thing I wish I could do for those we serve is, I wish I had the balm to make it all peaceful for them, to give them what they need. So many of our neighbors suffer from mental illness, trauma, addictions and other tragedies. I wish I could make things right for them," continues Emily.
"At the end of the day, it's a good day, and I am exhausted," said Emily. "Thanks be to God!"
For information and how you can be a part of The Dwelling, contact Pastor Emily at [email protected] or log onto their website at thedwellingws.org.
Sue Kiefner, IBOC communications assistant, researched and wrote this article. Photos courtesy of The Dwelling